Reinhard is with Jesus! - Ado Ekiti, Nigeria - Day 3
The third night of our crusade here in Ado Ekiti, Nigeria has just come to a close. The last few days here have been amazing. The power of God is moving and multitudes have been touched. However, as you might imagine, today has been marked by one extraordinary event.
This day will go down in history as the day one of God's greatest generals went home. When I woke up this morning, I had no idea that my day would end with such a whirlwind of emotion. I have both deep sorrow and great joy. Sorrow because Reinhard Bonnke was more than a great man, powerful preacher and influential leader. To me, he was like a father and one of my dearest friends. The Apostle Paul tells us that such gifts in our life are incredibly rare. "Even if you had ten thousand guardians in Christ, you do not have many fathers…" (1 Cor. 4:15). The sense of loss I feel in this moment is profound. But I am so happy that Evangelist Bonnke has finally entered his eternal reward. He is now with the One that he loved so much and that he lived his whole life to please. I am sure that all of heaven is rejoicing.
I was not at his side when Evangelist Bonnke passed away earlier today. Instead, I am on the other side of the world. But I can think of no greater way to honor one of the greatest evangelists that has ever lived, than laboring here in Africa, preaching the Gospel and leading multitudes into the arms of Jesus. Tonight, when I informed the huge crowd about Evangelist Bonnke's passing, they were visibly and audibly moved with emotion. Many of them can still remember when Reinhard Bonnke came to this same city more than a decade ago. The love for Bonnke in Africa is unparalleled. He left an indelible mark on this continent and we are still walking down the trail he forged over many years of faithful preaching of the Gospel.
Just a few days ago, I was preaching in Orlando about that great cloud of witnesses we read about in Hebrews 12. Today Evangelist Bonnke has joined that mighty host. I'm sure he has a seat of honor among them. And from heaven's grandstand he is cheering us on. We must continue to run with patience the race set before us until we all meet again at the feet of Jesus.
Yesterday our ministry celebrated "Founders Day" – 45 years since Evangelist Bonnke started the ministry of Christ for all Nations. Today we celebrate his homegoing. What an amazing and remarkable legacy of harvest he leaves behind.
My phone has been blowing up all day with texts, emails and phone calls from so many of you giving your condolences. Thank you all so much for your love and prayers. Please continue to stand with us. The work is not finished and the harvest is still plentiful. The best is yet to come!
You can visit the special memorial site for Evangelist Reinhard Bonnke here.
Yours in the Gospel,
Evangelist Daniel Kolenda
Together with the whole CfaN team Pictures by O. Volyk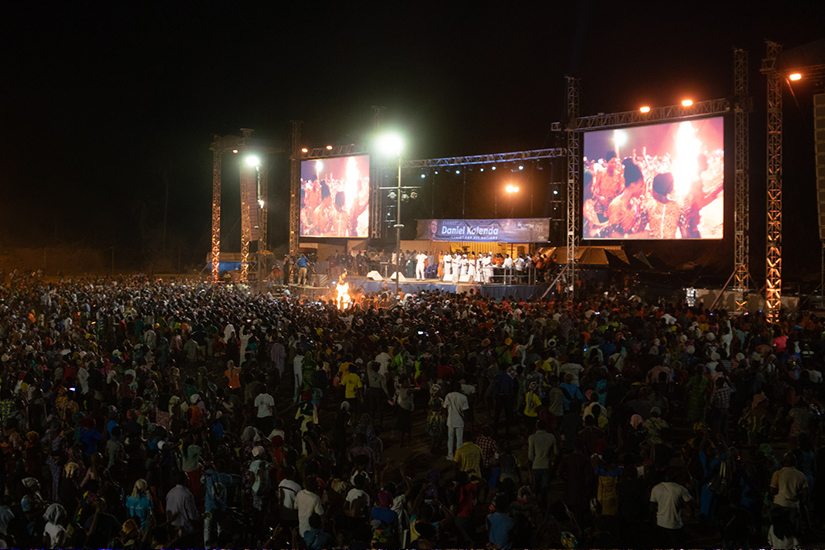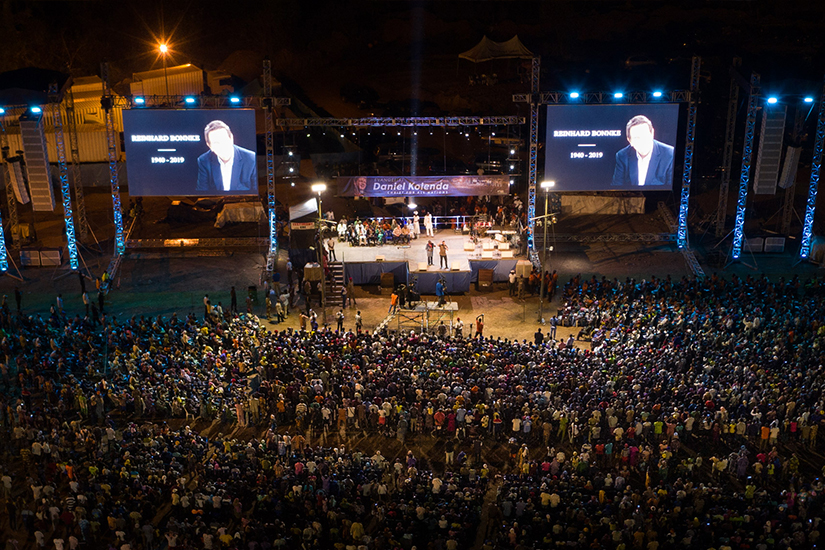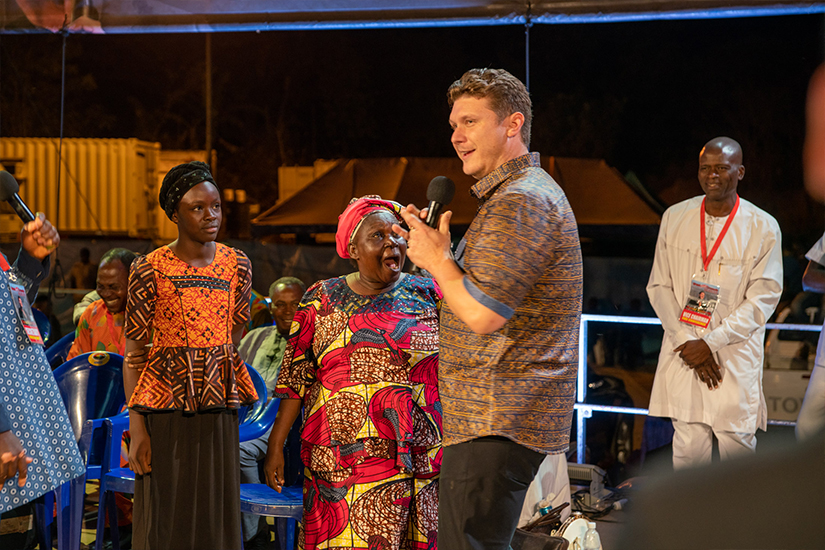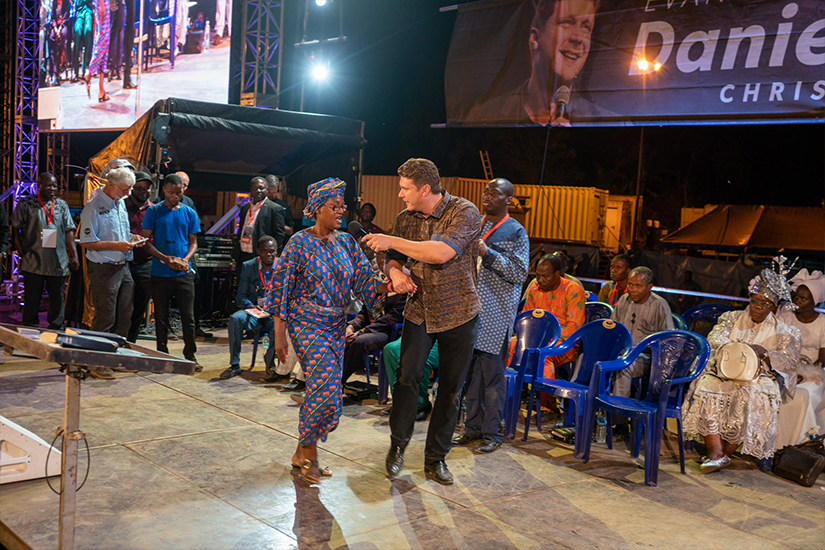 Ado Ekiti Day 2
Watch this clip from the second day of our Gospel Crusade here in Ado Ekiti, Nigeria. We have already seen many salvations and miracles take place this week as God has shown up in a powerful way; but we are not finished yet! Please continue to pray as we press on for the final two nights of the crusade. #DecadeofDoubleHarvest
Ado Ekiti, Nigeria - Day 1
Watch this short clip from our first day here in Ado Ekiti, Nigeria. Many have already been saved, healed and set-free! Please continue to pray for the remaining 3 nights and for the precious people of Ekiti State.
Ado Ekiti, Nigeria
Ado Ekiti
This is the first time Christ for all Nations has been to Ado Ekiti, Nigeria in 12 years.
Ado Ekiti, capital of Ekiti state, southwestern Nigeria. An urban and industrial center of the region, it was founded by the Ekiti people, a Yoruba subgroup whose members belonged to the Ekiti-Parapo, a late 19th-century confederation of Yoruba peoples that fought against Ibadan for control of the trade routes to the coast.
Land and Climate
The State enjoys tropical climate with two distinct seasons. These are the rainy season (April - October) and the dry season (November - March). Temperature ranges between 69.8°F (21°C) and 82.4°F (28°C) with high humidity. The south westerly wind and the northeast trade winds blow in the rainy and dry seasons respectively. Tropical forest exists in the south, while savannah occupies the northern peripheries.
Economy
Ado-Ekiti became the site of a large textile mill in 1967, the people having a long-standing tradition of cotton weaving. The town also produces shoes and pottery and is a collecting point for commercial crops such as cocoa and timber. Crops such as yams, cassava, corn, rice, and fruits are marketed locally.
Sources:
https://www.britannica.com/place/Ado-Ekiti
https://en.wikipedia.org/wiki/Ekiti_State