Tumors Vanishing!
Our last Gospel Crusade of 2018 came to a close here in Owerri, Nigeria. As always, Jesus was so faithful and the week ended with a crescendo.
Here in West Africa, during certain times of the year we experience a phenomenon called Harmattan. When this happens, fine dust particles from the Sahara desert blow into the atmosphere and travel hundreds of miles, covering West Africa in a blanket of powdery dust. The particles are so small that they hang suspended in the atmosphere, obscuring even the visibility of the sun at times. Here in Owerri the Harmattan has combined with pollution to create a very unhealthy situation. Saturday night, we were scheduled to broadcast the meetings live, via satellite uplink, but the dust was so thick our satellites had no reception. But there was no hinderance to the power of God coming down in salvation, healing and deliverance. Yesterday we prayed for the people to receive the Holy Spirit en mass and many were gloriously filled. Tens of thousands responded to the Gospel each night and there were more miracle testimonies than we could count.
One young man came to Owerri from another city because of the hospital here. He had been suffering for a long time with a growth on his body. He came to Owerri to have it removed. But while he was here, a lady told him about the crusade and he decided to come. During the prayer for the sick, his lump vanished completely.
In fact, this is one of the miracles we have seen most here in Owerri. Each night we have heard testimonies of lumps, tumors, fibroids and various growths instantly vanishing during prayer. Quite a few women with tumors in their breasts - some very large and painful - felt them disappear without a trace!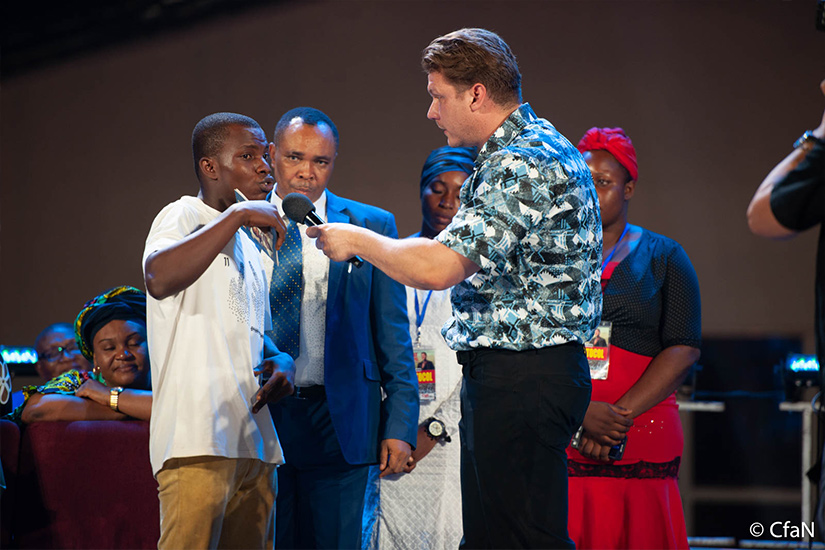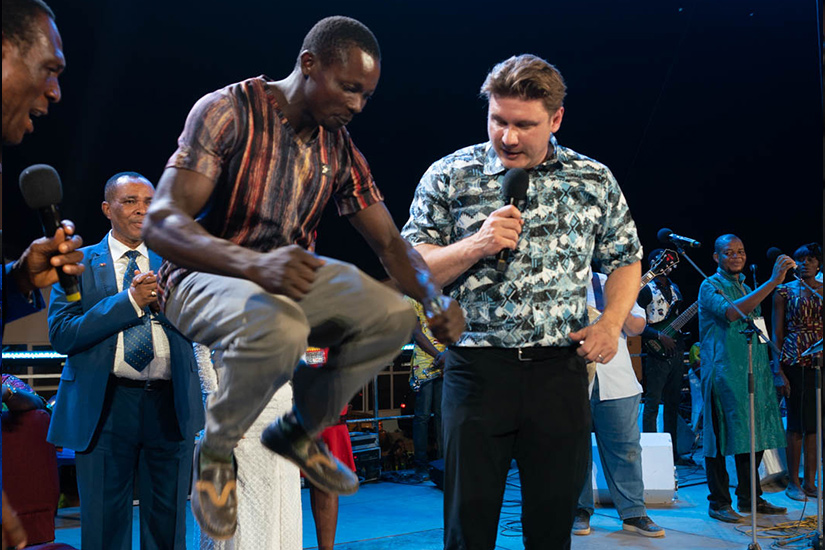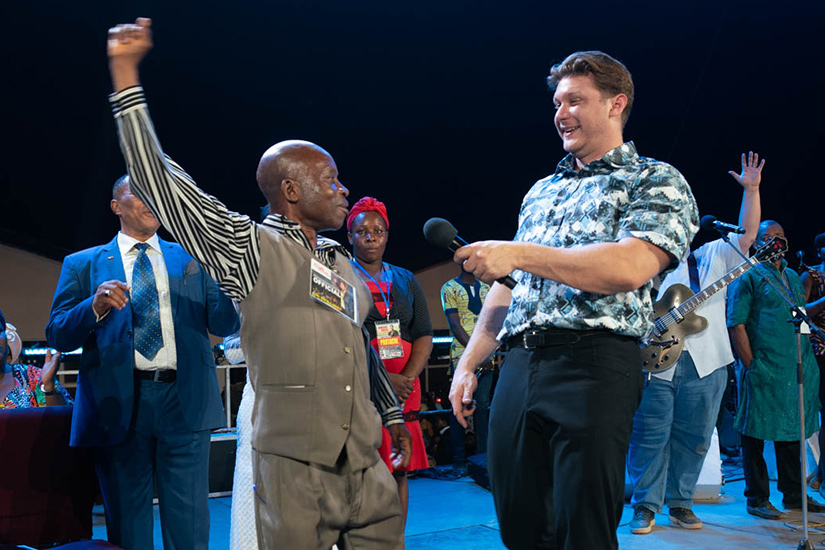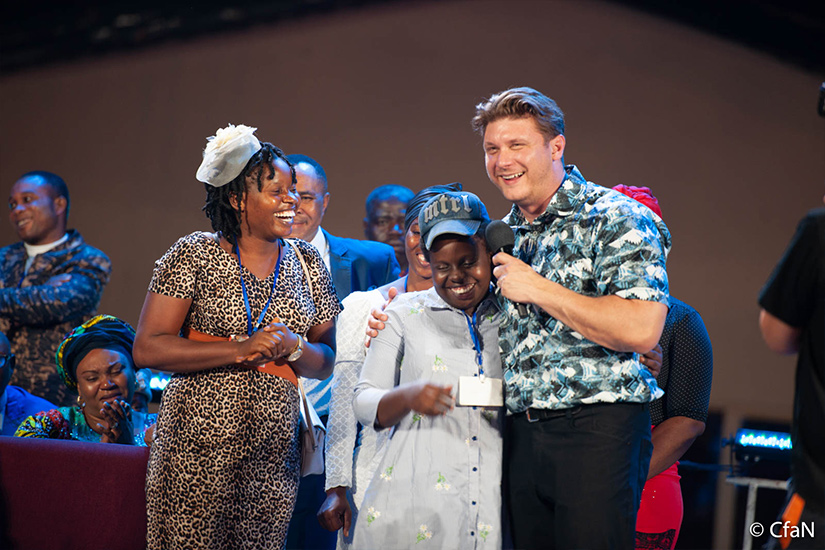 We have now arrived at the end of our crusade schedule for 2018 and as we look back, God has been so faithful this year. Not counting this crusade, we have recorded more than 1.2 million documented decisions for Christ in Africa. That is saying nothing of the events we have done in many other places all over the world. Countless miracles have taken place and there are endless testimonies of God's power. We are standing in awe of all He has done. To God be the glory!
Thank you for supporting us in 2018. Your prayers and support means more than you could ever know. We love and appreciate each one of you that have stood with us. May the Lord bless you richly.
As we head into the holiday season, from our CfaN family to you and yours, have a Merry Christmas and a blessed New Year. May 2019 bring many blessings and the fulfillment of God's promises. Please Continue to stand with us as we press on for a Decade of Double Harvest. The time is now!
Yours in the Gospel,
Evangelist Daniel Kolenda
Together with the whole CfaN team
Representing Jesus in High Places
We have some really interesting pictures of our adventures for you to enjoy today. It began with a visit to the Governor of Imo State here in Owerri, Nigeria. At the governor's mansion I was invited to speak to the governor, the first lady, the deputy governor and all the top cabinet leaders of the state. It was a precious opportunity to represent Jesus to those in high places. After our visit, the governor and I appeared in a press conference together with all the regional media where I was able to invite the public to come to the crusade.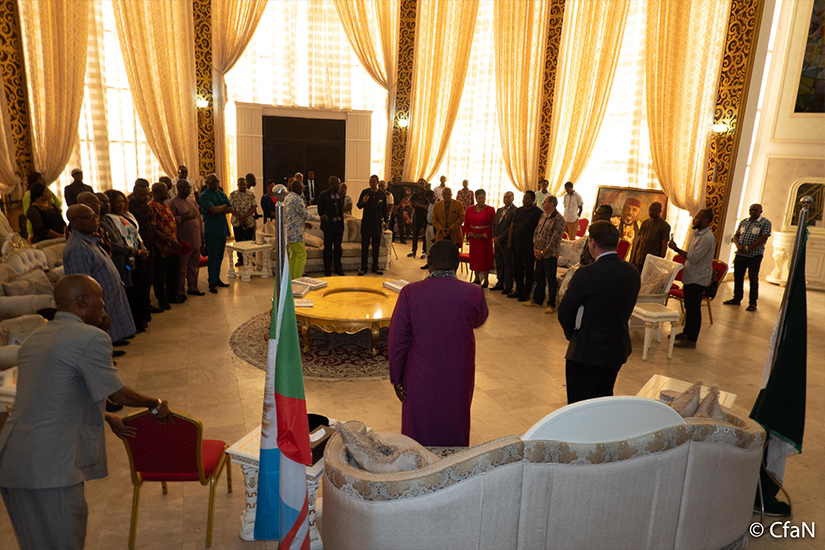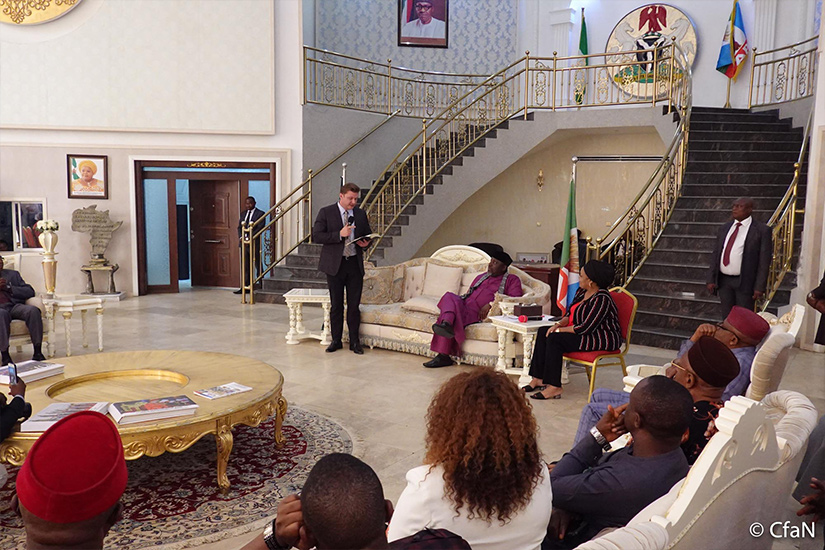 In the afternoon we met with our amazing team members for a make-shift Christmas dinner. This is our yearly tradition. It is a time of joy, laughter and thankfulness to God for His goodness this year. Several of our team members faced death over the last months on different occasions as they transported our equipment through war zones. Our trucks have bullet holes in them as an enduring testimony to the Lord's faithfulness and protection over the team.Most of all we thank the Lord for another year of historic harvest!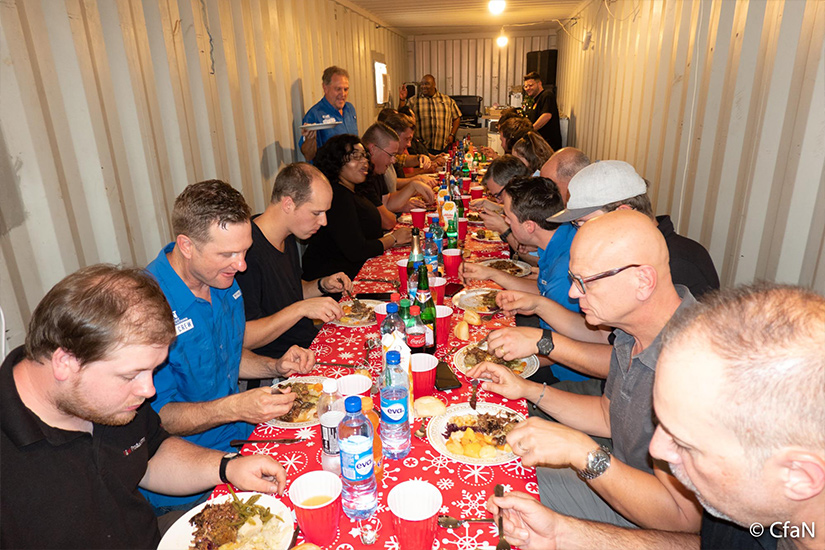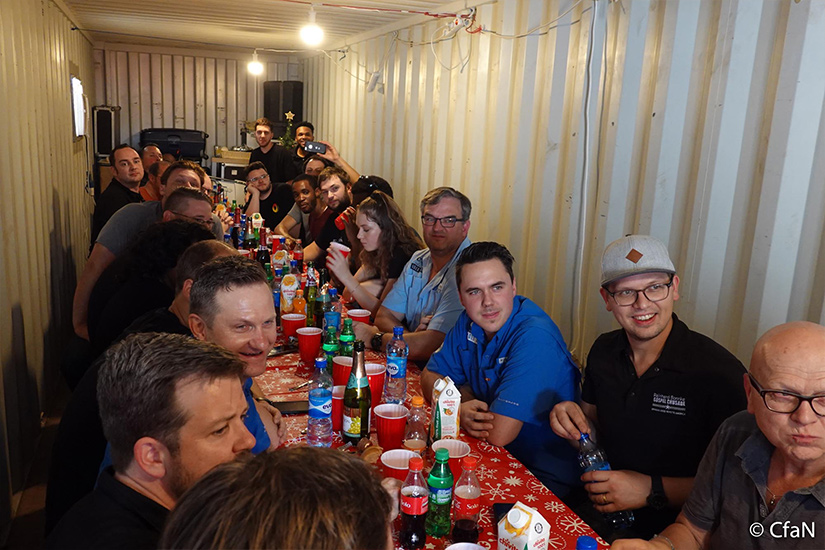 Tonight, the governor, his wife and their entire government entourage attended the crusade and were present throughout the service as I preached the Gospel. Afterwards the governor asked if we would come back again. It is clear that we have an open door here in Imo State.
After I preached the Gospel, many wonderful miracles took place. A woman with a severe infection in her leg leaving her unable to walk, said that as I was praying tonight, the power of God came over her. She fell to the ground and when she got up she saw how that infection had literally drained right there on the field and she was able to walk perfectly. A couple ladies with large lumps in their breasts said that they vanished instantly. Eyes and ears were healed. Cripples walked, danced and ran without their crutches!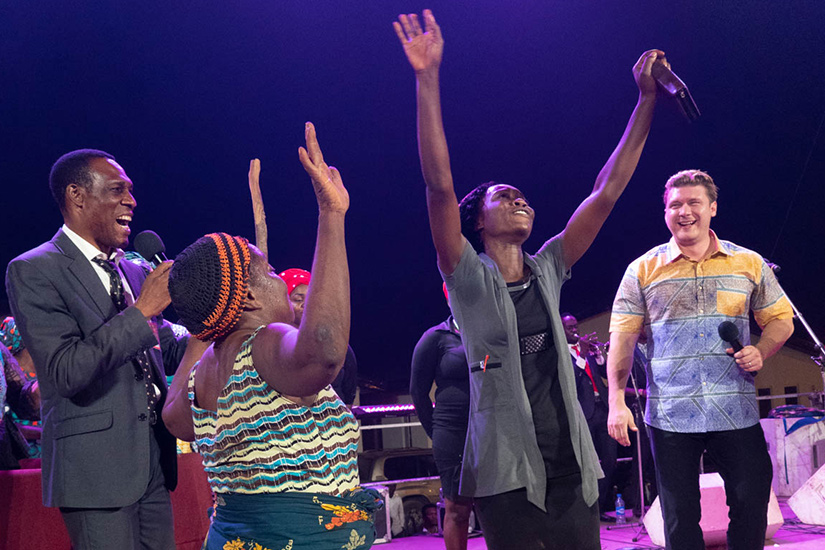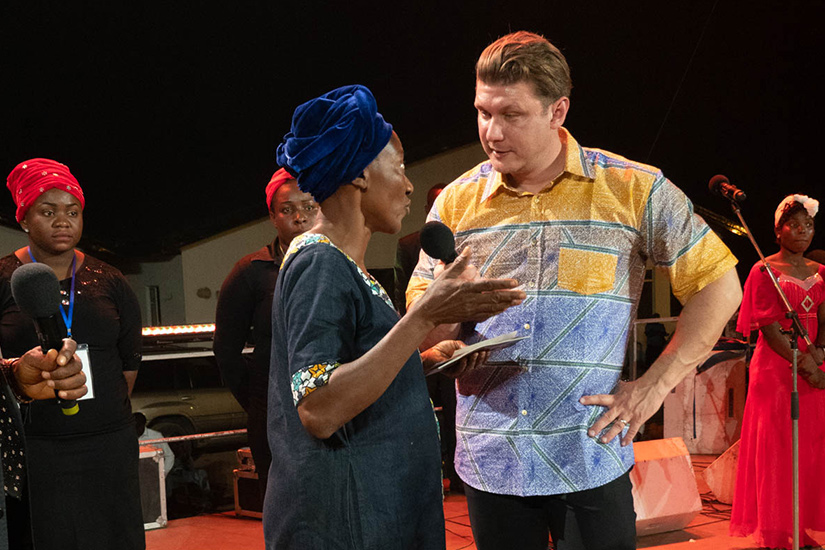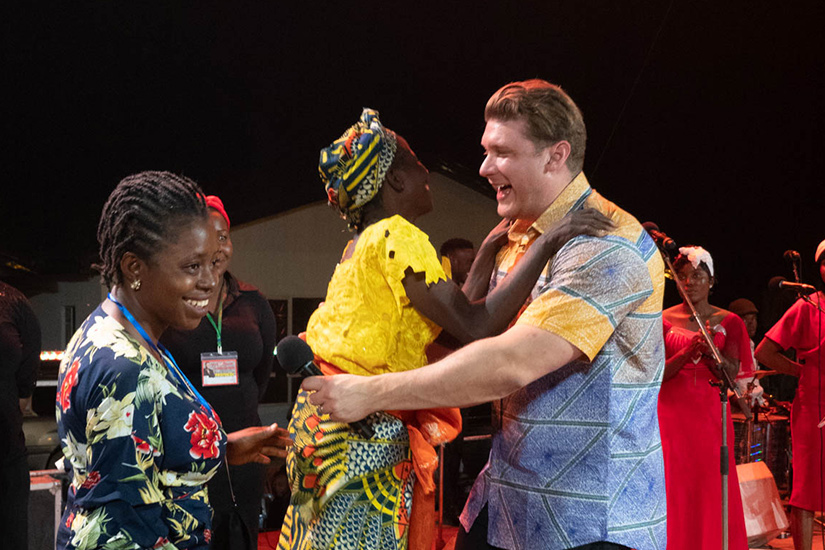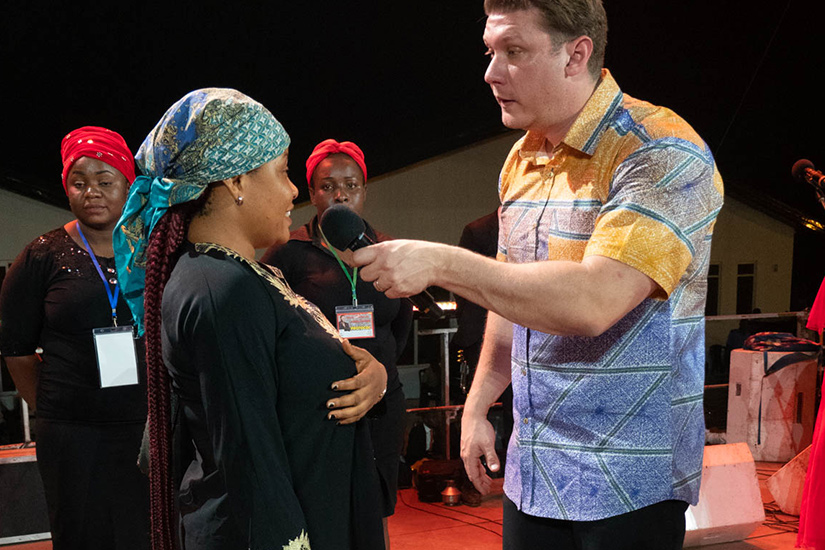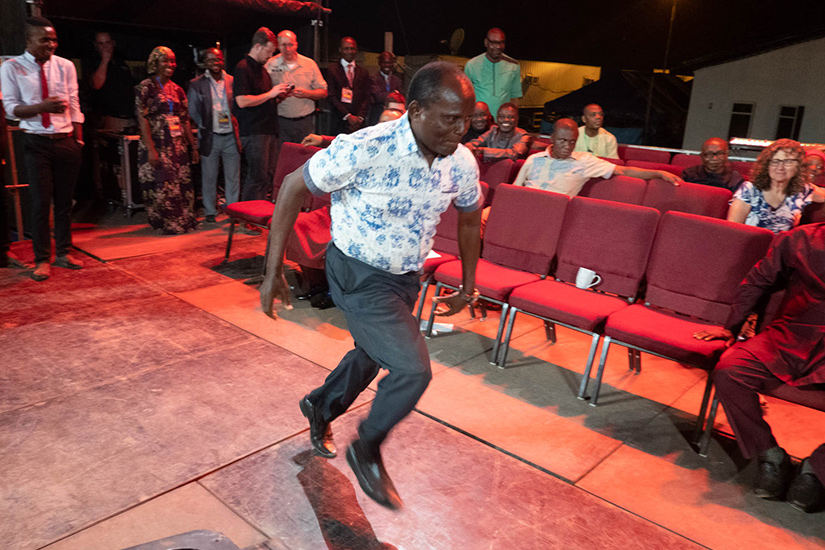 One of the ladies who had been crippled said that as Eddie James was leading the worship, she felt like she had to get up and dance, and when she did, she was healed. She left her walking stick behind and went home rejoicing.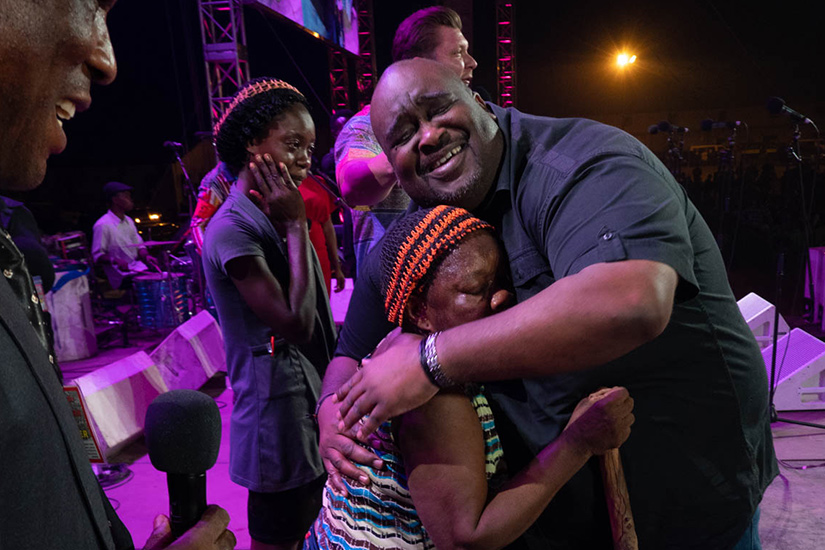 Be sure not to miss our LIVE-STREAM from Owerri TODAY (Saturday), starting between 12 PM and 1 PM ET here! Just click on the "LIVE-STREAM" tab. If you are in the USA and want to be notified by TEXT each time we do a live-stream event, please text CFANLIVE to 900900.
Tomorrow is the final day of the Fire Conference where I will minister with Peter Vandenberg and John Darku. Please pray for a mighty outpouring of the Spirit.
Yours in the Gospel,
Evangelist Daniel Kolenda
Together with the whole CfaN team
44-Years of Gospel Impact!
Today marks the 44th year anniversary of the founding of CfaN. December 6th, 1974 Evangelist Reinhard Bonnke and his wife started this amazing journey that has resulted in more than 78-million people coming to Christ in some of the largest evangelistic events in history. And what better way to celebrate than with a Gospel Crusade. Tonight was the kick-off of our campaign here in Owerri, Nigeria – the final crusade of 2018. I'm here, as always, with Peter Vandenberg and joined once again by Eddie James who is leading us in worship.
Tonight, the opening crowd was quite small compared to what we are used to, but the power of God was moving mightily on the field. I'm sure we will see the crowds surge throughout the week. After I preached the gospel and prayed for the sick, we heard testimonies of amazing miracles.
A young man with a lump protruding from his stomach said that during prayer it suddenly and completely vanished!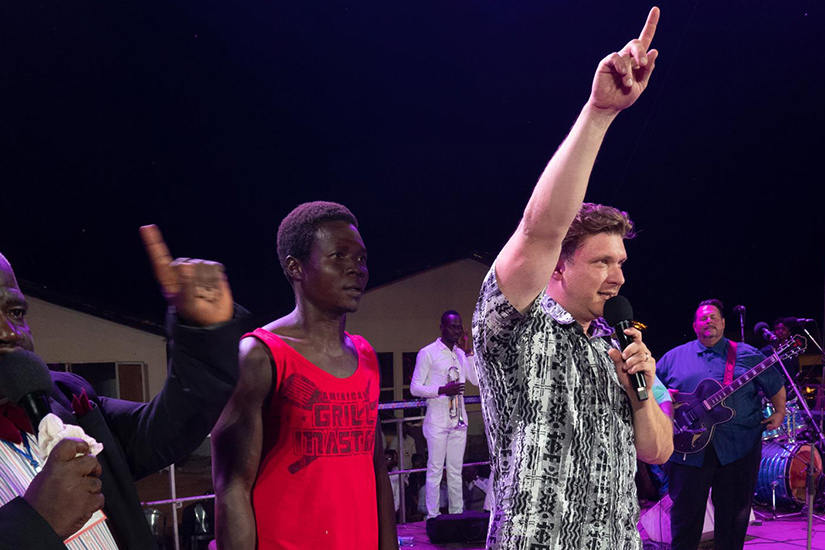 A woman suffering with fibroids for more years than she can remember, said that as we prayed the power of God came upon her. She began shaking violently and then realized that her fibroids had vanished.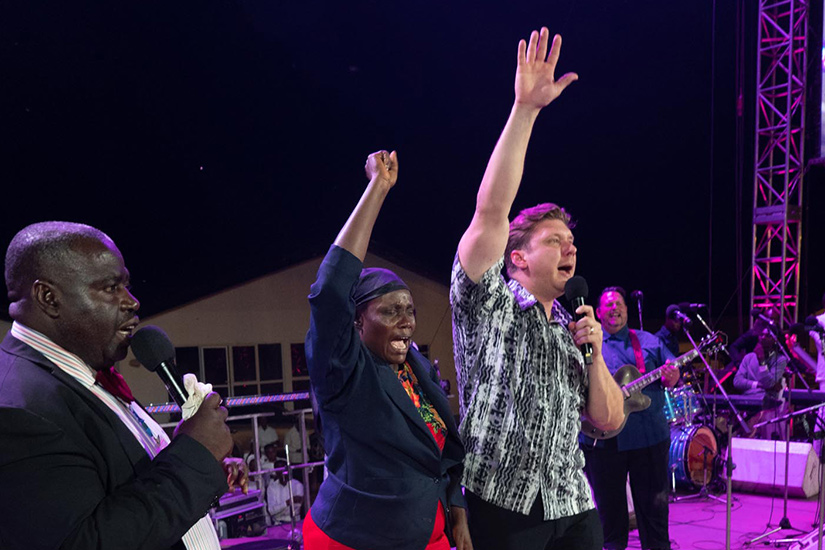 An elderly man told us that his right hand had been frozen and paralyzed for over a year. Tonight he was healed completely. As he stood on the platform moving it freely he said, "Even now, I can feel warm blood flowing into it."
A man and a woman, both with debilitating, and in one case, painful, eye problems, were both healed tonight.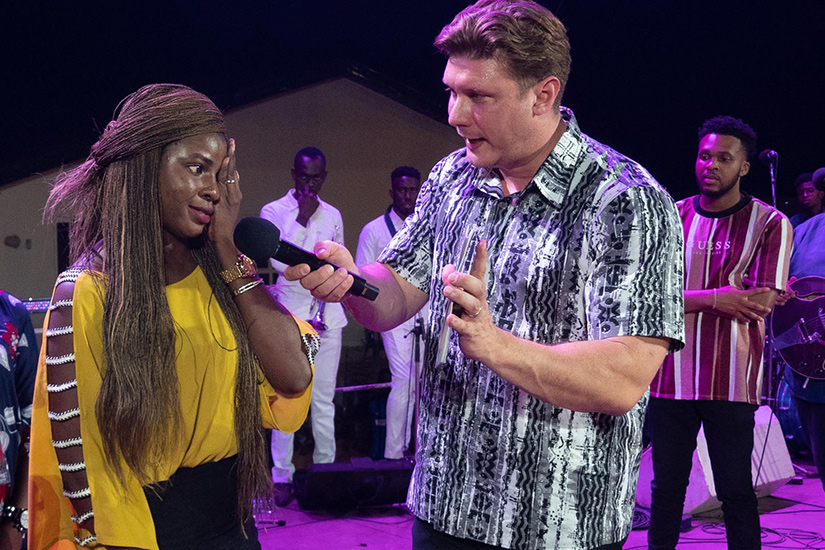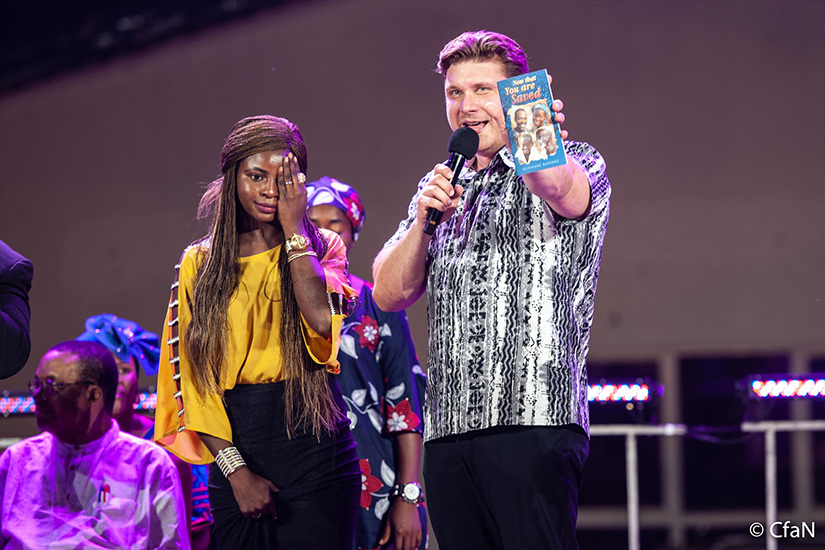 These are a small sampling of the thousands of people that had testimonies of healing – and this is only the first night!
Please pray for us as we plow the ground here in the beginning of this campaign. Pray for a breakthrough in every area. Pray that Jesus would continue to display His power through mighty signs and wonders. Pray that Owerri will be shaken by the Gospel. Pray for a massive harvest of souls and also for the protection of our team.
Also, don't miss our LIVE-STREAM from Owerri on Saturday!
Yours in the Harvest,
Evangelist Daniel Kolenda
Together with the whole CfaN team
Pictures by O. Volyk
Livestream Cancelled
Due to difficult weather conditions in Owerri, Nigeria, we regrettably have to cancel today's livestream. Here is a video recorded by Peter Vandenberg (Vice President of Christ for all Nations) about the situation. Thank you for your patience and prayers!
Evangelist Daniel Kolenda arrives in Owerri, Nigeria!
Make an eternal impact on #GivingTuesday!
You may be aware that today is #GivingTuesday, a day set aside to give towards a cause you believe in. We have participated in #GivingTuesday in recent years, but it just so happens that this important day for charities around the world came during a window of time when we are continuing our efforts to complete the funding for our Owerri crusade, which is only days away (starting on December 6th).
I may be a bit biased, but I can't think of a greater cause to support on this #GivingTuesday than the preaching of the Gospel to the lost around the world!
We are well on our way to reaching our online goal of $200,000.Once again, if the Holy Spirit speaks to you, I pray that you simply obey.
Thank you for your ongoing partnership! It gives us great peace knowing that we have sensitive and faith-filled partners like you. I will keep you updated as we near the close of this year.
God bless you for whatever you are lead to do!
Yours in the Harvest,
Evangelist Daniel Kolenda
Christ for all Nations
Owerri, Nigeria
This is our final crusade of 2018 and we could really use your help to finish covering the cost of this vital outreach. Your help right now would be an answer to prayer!
Owerri
We are so excited to be back in Owerri after 17 years. The town is located in one of the most densely populated areas of Nigeria and is inhabited by the predominantly Christian Igbo people.
Owerri is the capital of Imo state located in southern Nigeria. The town is the seat of the New (Federal) University of Imo, Alvan Ikoku College of Education, and several secondary schools. It is also served by a general hospital.
Land and Climate
This city has a tropical climate. Owerri has significant rainfall most months, with a short dry season. The average annual temperature in Owerri is 26.4 °C (79.52 °F).
Economy
Owerri sits in the rain forest and produces many agricultural products, such as yams, cassava, taro, corn, rubber and palm products. It is the chief trade center for a region of modified rainforest that also yields rubber for export. It is known for its handicraft centers. Although there is little industrial development, one factory produces galvanized sheet iron. Owerri also sits on huge crude oil and natural gas reserves like most of the Igbo land areas.
Sources:
https://en.wikipedia.org/wiki/Owerri
https://www.britannica.com/place/Owerri
https://en.climate-data.org/location/889379/