A Witchdoctor Receives Jesus!
Our Gospel Crusade has just come to an end here in Harare, Zimbabwe. Despite the bitter cold weather, the attendance almost doubled over last night! The government minister of religion attended two of the evening meetings this week. It is an epic event in this region that has gotten lots of attention. The services are being broadcasted on the radio. It seems everyone has heard of what is going on.
As I was leaving the meeting tonight, a young man approached me and said, "I am an evangelist. With your permission, I would like to start preaching all your sermons." I was thrilled. I pray the Lord would raise up many evangelists here in Zimbabwe and that the work that began here this week will continue through the local ministries.
I have had a couple of wonderful guest ministers with me this week. Rev. John Wilds led us in wonderfully anointed worship and Evangelist Tamryn Klintworth both spoke in the Fire Conference and ministered to the sick last night. They were a great blessing.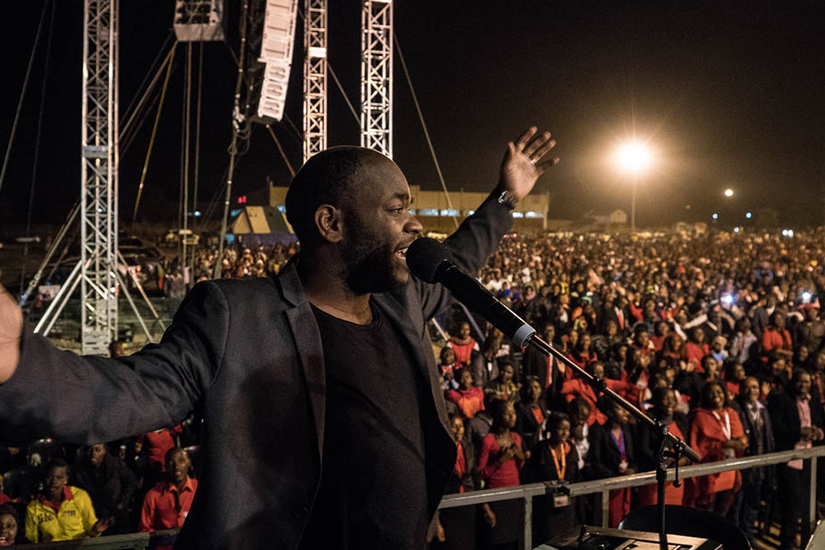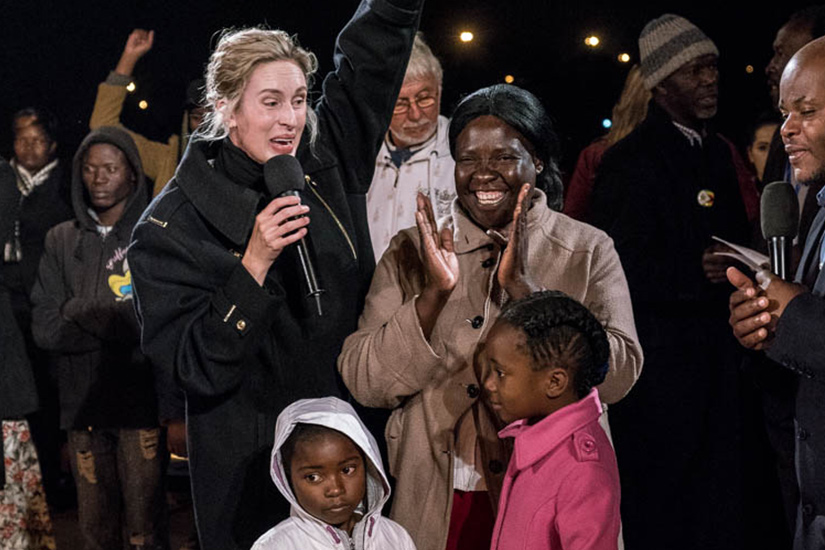 Tonight, in the final meeting, many thousands accepted Christ and many wonderful miracles took place, including several cripples and paralytics that were totally healed. The miracles were far too many to mention.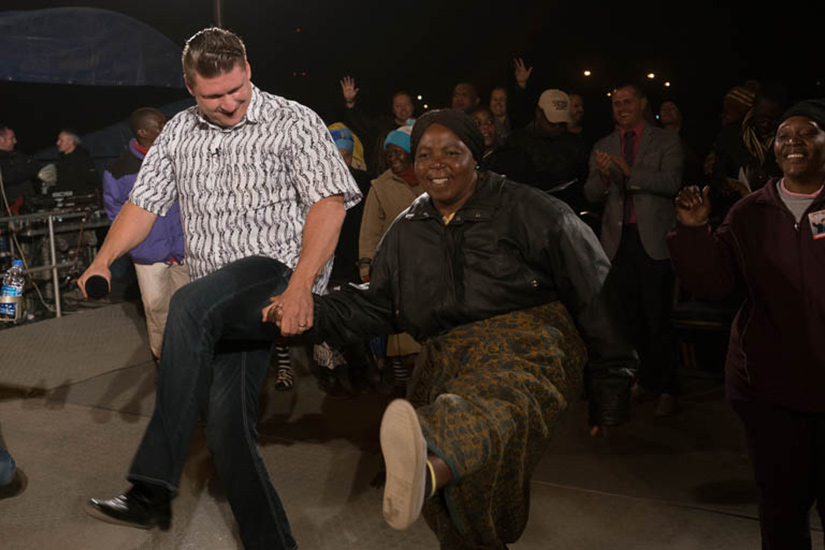 One of the local leaders brought his father to me last night for prayer. He was crippled. I prayed for him and Jesus touched him. Today, the son told me that his father is actually a local witchdoctor. He was healed, but still had not accepted Christ. I asked him to bring the father back tonight so I could speak with him. I had the chance to pray with him to receive Jesus one-on-one at the end of the meeting. What a wonderful testimony. A local witchdoctor healed and saved – one of the many thousands of lives touched this week.
Our next Gospel Crusade will be in Lagos, Nigeria. It is Evangelist Reinhard Bonnke's "Farewell Crusade" in Africa. We are expecting a massive attendance, and I am believing that it will be the beginning of a whole new season of super massive crusades in West Africa. Please pray for that event. There is so much work to be done.
Thank you for praying for us and supporting us. Heaven is rejoicing.
Yours in the Gospel,
Evangelist Daniel Kolenda
Together with the CfaN team
Deadly Accidents!
Tonight, on our way home from the meeting, we passed three terrible accidents. An epidemic of drunk driving causes many deadly crashes here. I've never seen anything like it. As we drove past one accident, a dead body was lying face down in the road in a jumble of shattered glass. At another scene, body parts were strewn across the street. I thought of the families that would be grieving. I wondered about the souls of those who had died. The fragility of life, the brokenness of our world, and an urgent need to preach the Gospel gripped my heart as we drove. These grisly sights stood in stark contrast to the beautiful scene that had unfolded minutes earlier at the crusade field, where many thousands of people received Jesus as their savior and many wonderful miracles happened! Demoniacs were delivered, a woman bent over for three years stood upright for the first time (pictured below), growths disappeared and much more.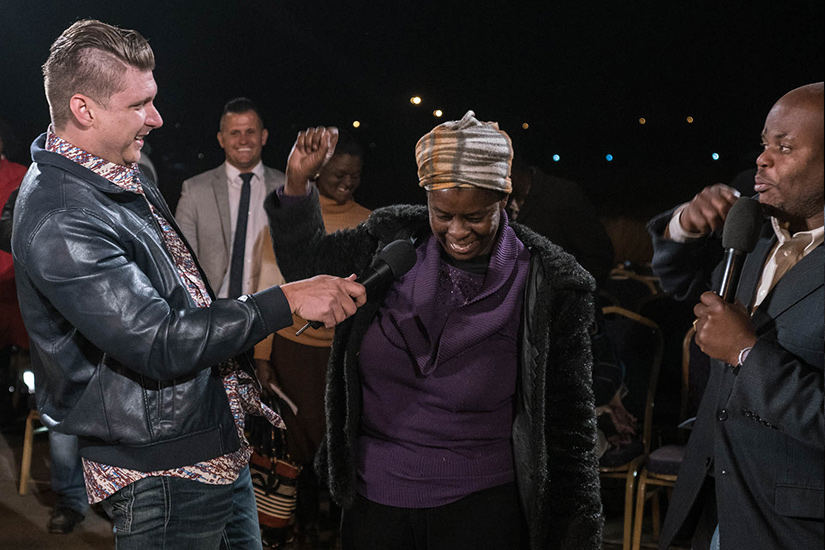 At the same time, not far from our meeting, Satan was claiming yet another life. These are the parallel realities that we experience as Christians. We preach the Gospel in the middle of a world torn apart by death, pain and sin. We bring light right into the midst of the darkness, and offer the Kingdom of Heaven at the gates of hell. This is where the rubber meets the road. The world needs Jesus, and time is very short. This is why we are here. This is why we go. This is why we preach the Gospel.
Thank you for continuing to pray for us.
Yours in the Gospel,
Evangelist Daniel Kolenda
Together with the CfaN team
Back After 30 Years
Tonight, was the first meeting of our Gospel campaign here in Harare, Zimbabwe. The weather is quite cold here – only 3° C (about 37° F). It's quite amazing that the people came out in such cold conditions, both in the morning and night, to stand outside for hours! It is a remarkable demonstration of the tremendous hunger here.
Christ for all Nations was last in this nation more than 30 years ago! God did many wonderful things at that time, but we are expecting even greater things this week. Tonight, we got a taste. Tens of thousands of people surrendered their lives to Jesus Christ, and wonderful miracles happened.
An elderly lady's arm was partially immobile. She could not lift it past shoulder level. Tonight, during the prayer for the sick, her arm was completely healed.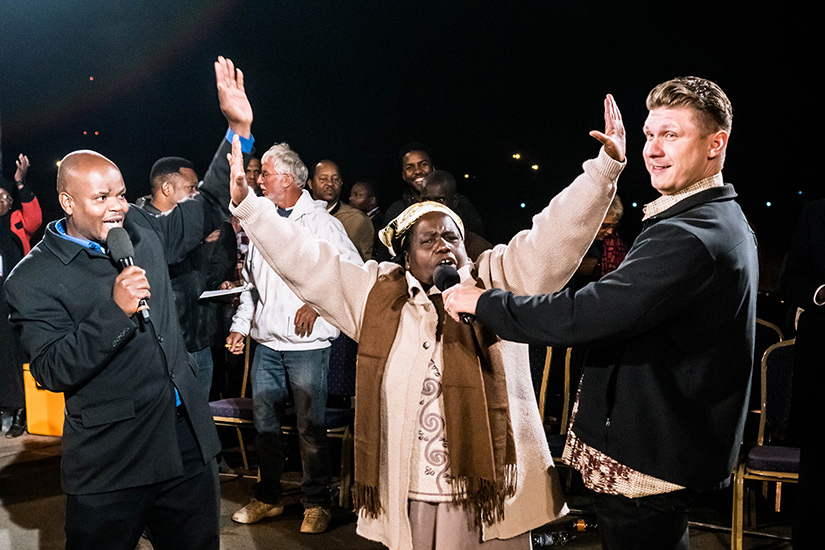 A man, who had a fist-sized lump in his stomach for the last 21 years, said that it instantly vanished during the prayer!
During the service, I had a word of knowledge for someone with pain in the right wrist. A young lady came forward, and said that she was the one. She testified that the pain was completely gone!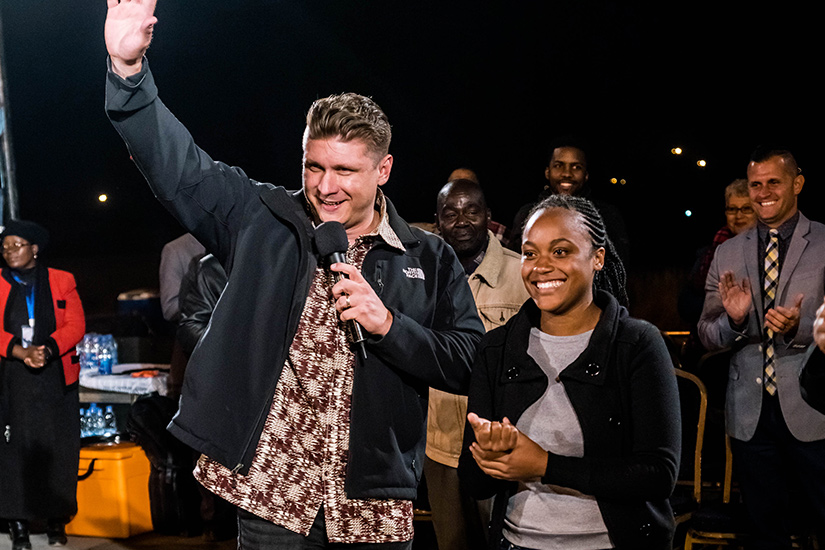 A young lady came to the meeting deaf in her right ear. Her ear opened tonight.
These are just a few of the many wonderful things that Jesus did. We are rejoicing, and looking forward to another day of wonderful meetings tomorrow. Please pray for us, and for Zimbabwe!
Yours in the Gospel,
Evangelist Daniel Kolenda
Together with the CfaN Team
Hungry for a Move of God

The people of Harare, Zimbabwe are hungry for a move of God. Please pray for a mighty harvest of souls coming into the kingdom as I preach the Gospel tomorrow. Pray that God would meet the precious people of Zimbabwe with his presence and power.

Thank you for praying.

Yours in the Gospel,

Evangelist Daniel Kolenda
Together with the whole CfaN team


Harare, Zimbabwe
Harare
Harare is the capital and most populous city in Zimbabwe, with nearly 3 million people in the metropolitan area and millions more in the region. The city was originally founded as Fort Salisbury in 1890, but was renamed to Harare in 1982.

People

The two largest ethnic groups in Zimbabwe are Shona and Ndebele. Shona language is the most widely spoken, and Ndebele language is second. English is the official language and traditionally used for official business. There are also 13 minor languages spoken: Chewa, Chibarwe, Kalanga, Koisan, Nambya, Ndau, Shangani, sign language, Sotho, Tonga, Tswana, Venda, and Xhosa). The average age in Zimbabwe is 21 years old, and over 86% of the population can read and write in English. The majority of people earn a living through agriculture (66%), services (24%) and industry (10%).

Land and Climate

Situated at a reasonably high altitude on the Highveld plateau, the city of Harare maintains a pleasant, subtropical climate. Woodlands and natural vegetation make up the Harare landscape. In June, the average high is 21.8 °C (71.2°F) and the average low is 6.8 °C (44.2°F).

Economy

Harare is Zimbabwe's leading financial, commercial, and communications center, and a trade center for tobacco, maize, cotton, and citrus fruits. Manufactured goods include textiles, steel and chemicals. Mining industry for Zimbabwe includes: coal, gold, platinum, copper, nickel, tin, diamonds and clay.

Sources:
https://www.cia.gov/library/publications/resources/the-world-factbook/geos/zi.html
https://en.wikipedia.org/wiki/Harare#Topography