Salvation Responses from Tamale, Ghana!
We've just received a wonderful report from Tamale, Ghana where we held a Gospel Campaign a couple of months ago. 113,700 decision cards were counted from the four days of meetings!
These people have been ushered into the local churches with our follow up team on the ground. The region has been greatly impacted. Praise the Lord!
Thank you to all of you who played a part in making this amazing harvest possible with your prayers and finances. You are impacting souls for eternity. We honor you and thank the Lord for you.


Yours in the Harvest,
Evangelist Daniel Kolenda
Together with Peter Vandenberg & the whole CfaN team
Power in the Airwaves
I've just returned from the field on this final night of our Gospel campaign here in Tamale, Ghana. The crowd more than doubled tonight! It was a huge breakthrough. Behind the platform, more than 35,000 people stood in the darkness. These were mostly Muslims who had come to the meeting despite the prohibition of local Imams. When I gave the invitation to receive Jesus, thousands of them lifted their hands and prayed with me. Heaven is rejoicing tonight and Tamale will never be the same again.
After the prayer for the sick, we heard wonderful testimonies.
An old Muslim lady who could not walk and who also had severe pain in her leg and shoulder, was listening to the radio last night. When I prayed for the sick, she put her hand on her body in faith and Jesus touched her. Tonight, she could walk perfectly and gave the glory to Jesus. We have no way of knowing how many people were reached this week through the live daily radio broadcasts, but I am sure that the power of God went out through the airwaves!
Last night, I had a word of knowledge about someone whose sinuses were blocked by a growth. Tonight, a British lady came and testified that she had not been able to breathe through her nose due to an obstruction in her sinuses since she was 7 years old. After the prayer for the sick, her sinuses opened up and she can now breathe through her nose for the first time since she was a child.
A woman who, was crippled for the last three years, walked tonight! A man with severe pain in his leg said that it instantly vanished. A woman with a painful infection in her breast, thought to be cancerous, said that during the prayer she felt the infection leave and all pain is now gone. When I asked how many had received a miracle over the course of the week, literally thousands of people waved their arms enthusiastically!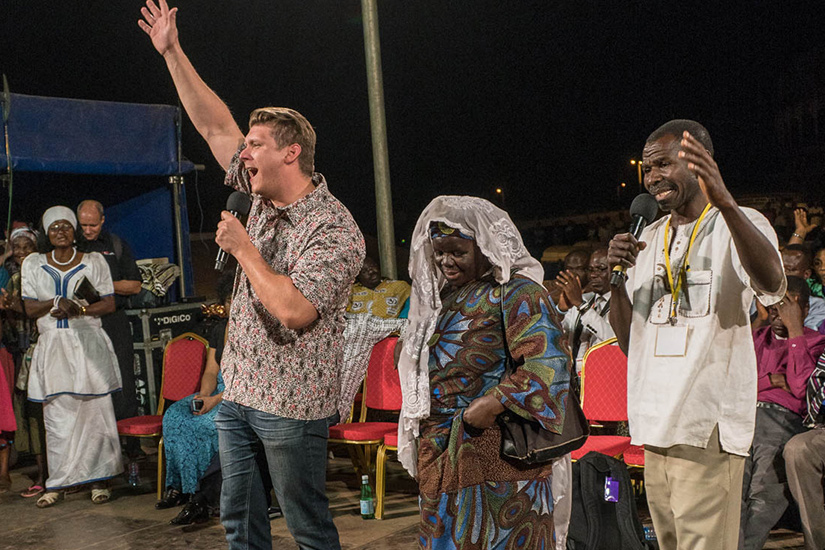 This week was filled with many challenges and obstacles, but the Lord gave us victory after victory. Thank you for standing with us so faithfully in prayer. We are shoulder-to-shoulder in this harvest.
We now set our sights on Ivory Coast where our next campaign takes place in March. I will report back on the registered decision cards as soon as the count is in.
Yours in the Harvest,
Daniel Kolenda
Together with the whole CfaN team
Fire!
I am just overwhelmed by the goodness of God as I write this. Today, he answered by Fire as we prayed for the outpouring of the Holy Spirit here in Tamale, Ghana. This morning, pastors and leaders were getting absolutely rocked by the glory of God. There was a profound awareness of the presence of God and many were filled to overflowing. Tonight, once again, the Holy Spirit fell on the huge field after we prayed. In addition to those who received the baptism into the Holy Spirit, many other wonderful miracles took place.
• A woman who could not walk for 7 years because of a spinal cord injury was totally healed. We danced together on the platform!
• A young lady who was blind in her left eye, was totally healed!
• An old woman, paralyzed from a stroke, had not been able to walk or even sit properly for the past 10 years. Tonight Jesus healed her.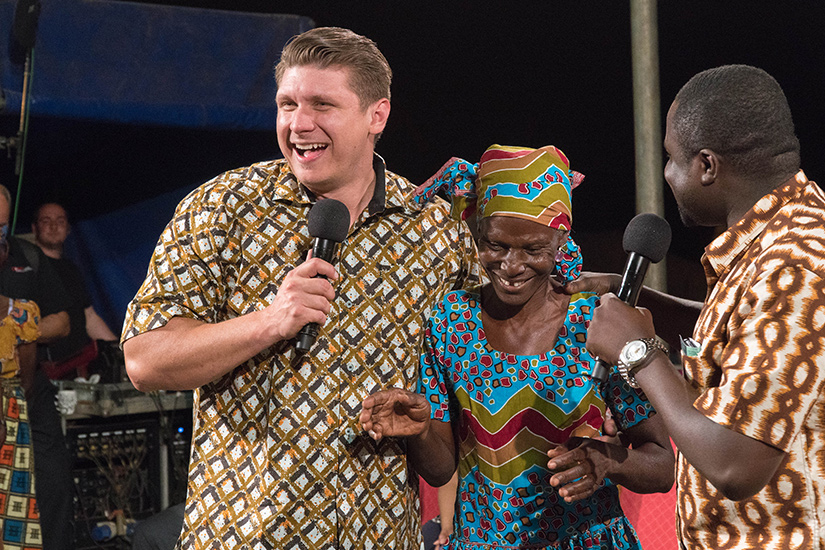 And the most glorious miracle of all were the many thousands that made a decision to surrender their lives to Jesus tonight. This is always the greatest testimony, but in this place where more than 80% of the population is non-Christian, it is especially profound. As I look out across the crowd, I can see many people who belong to these other religions and yet they are listening and receiving Christ. We even heard that the local leaders of the dominant religion in the region have instructed their people not to come to our meetings. Yet, despite their opposition we are seeing tremendous fruit.
Tomorrow, is the final night of this Gospel Crusade. Please pray that the city would be shaken by the power of God.
Yours in the Gospel, Daniel Kolenda
Together with the whole CfaN team
Pictures by O. Volyk
Power in the Blood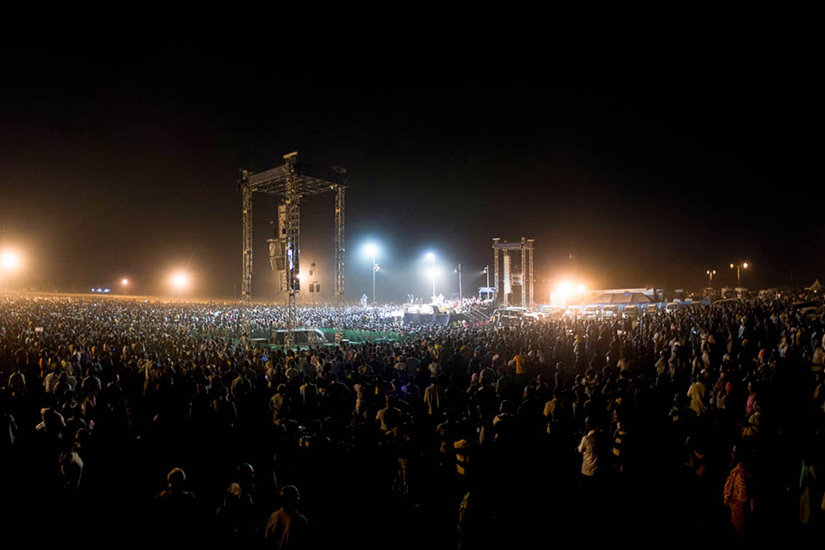 We have just come from the field on night 2 of our Gospel Campaign here in Tamale, Ghana. Tonight, I preached on the blood of Jesus. Thousands came into the Kingdom of God. We also saw how many demoniacs began to manifest as soon as I started talking about the blood of Jesus. Shrieks and cries could be heard all over the field. One woman that was just a few feet in front of me began to manifest as I was preaching. In the end, we saw wonderful miracles of deliverance and healing. During the prayer for the sick, I had a word of knowledge about someone with a growth in their nose. A woman came forward and said that for six years she had a growth in her nose that caused a variety of terrible problems. Tonight, Jesus touched her and healed her. Many people said that they had been healed of paralysis as a result of strokes. There is great joy in this region because of what Jesus is doing.
This morning, Peter Vandenberg and Rev. Charles Ciepiel ministered to the pastors and leaders. Charles also led the congregation in a powerful time of worship tonight.
Tomorrow, is the final day of Fire Conference meetings. Please pray for a mighty outpouring of the Holy Spirit tomorrow morning. Please also join us in praying for a real breakthrough here. While we are seeing some wonderful miracles, I feel like there is so much more for this region. I believe there is a spiritual battle being waged over this city and we need God's people to bombard heaven for the breakthrough.
And, if you are so led, you can also help us with our ongoing ministry expenses.
Thank you for praying.
Yours in the Gospel,
Evangelist Daniel Kolenda
Together with the whole CfaN team
Pictures by O. Volyk
30 Years Later - Tamale, Ghana
Greetings from the city of Tamale in Ghana, West Africa. Our Gospel Crusade began this morning with the Fire Conference, and the evangelistic service tonight. The last time Christ for all Nations was in Tamale was 30 years ago this week. In fact, it was in this city that we first started counting decision cards and keeping track of the new converts that were being ushered into the follow up system in 1987. 30 years and 76 million salvations later, we are back in this wonderful city and full of expectation for what God will do this week.
Tonight after I preached the gospel and prayed for the sick, we heard wonderful testimonies.
• A man whose left arm had left been paralyzed from a stroke in 2015 was healed tonight.
• A 28-year-old man, who was deaf in the left ear from birth, said that as I started to pray over the crowd that he felt fire come on his ear from the very first shout, and suddenly realized he could hear. I tested him on the platform and verified this mighty miracle!
• An elderly Muslim woman who could not walk for 6 years, was healed tonight.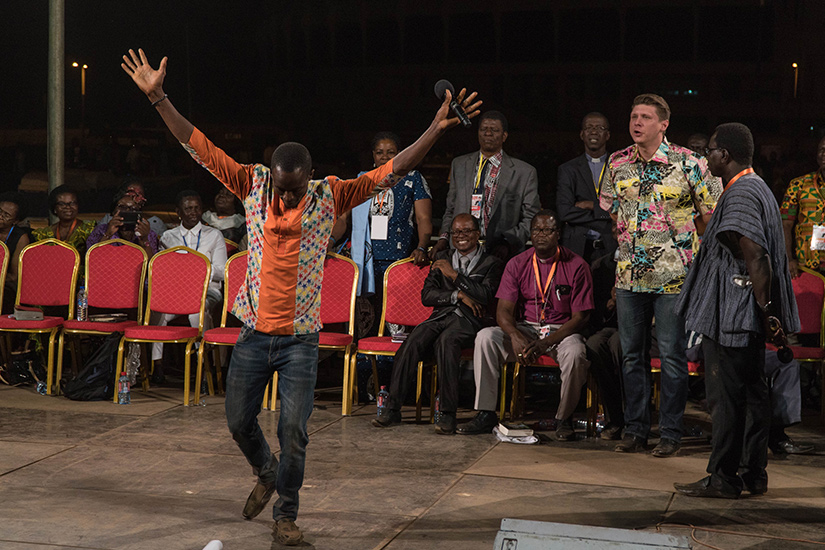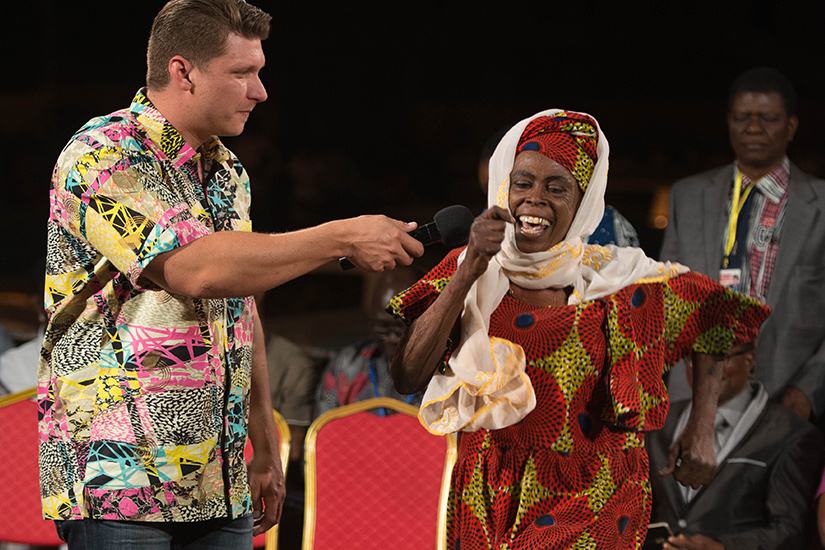 We are in a region where, according to the locals, more than 80 percent of the population is not Christian. Tonight, we could see that this was true. Many people of other religions attended the meeting, and many of them experienced the power of God. I am sure that after this week Tamale will be changed forever.
Please make it a point to set some time aside to pray for us and for the meetings here this week. May Jesus be lifted up over this region as never before.
Yours in the Gospel,
Evangelist Daniel Kolenda
Together with the whole CfaN team
Pictures by O. Volyk
First Time in Tamale in 30 years!
Evangelist Daniel Kolenda shares from Tamale- our first time back in 30 years, and we are excited and expectant for our first Gospel Crusade of 2017. Watch this short video from our arrival to Tamale, Ghana!
Tamale, Ghana
Tamale
Tamale is the 4th largest city in Ghana and is the capital of the Northern Region. Tamale is a major center for political, economic and business commerce activities, and over half the population is between 15-64 years of age. Currently, Islam is the dominant religion.
People
The Region has 4 chiefs representing the 4 major ethnic groups: the Mole Dagbon, Gurma, Akan, and Guan. The languages spoken in the region vary with each district. As for the structure of the home, several round huts shared among family members form a compound. The average household size in Tamale is 6.5, which includes not only children but extended relatives as well.
Land and Climate
The Northern Region in Ghana covers approximately 70,000 square kilometers (27,000 square miles). Dry season lasts from November through March/April, with temperatures in January averaging highs of 35 °C (95 °F) and lows of 20 °C (69 °F). The main sources for drinking water include springs, rivers, streams, while some households use dugouts to collect rainwater.
Economy
The economy largely consists of agriculture, hunting and forestry. About 10% of the industry sector in the Northern Region consists of fishing, hotels, restaurants, communication, health and education. The majority of the workforce in Tamale work in sales, services, transport and production.
Sources: https://www.newsghana.com.gh/ghana/regions-of-ghana/northern-region/ and https://en.wikipedia.org/wiki/Tamale,_Ghana