Salvation Responses from Daloa, Ivory Coast!
We received the news that during the 4 days of meetings in our Gospel Campaign in Daloa, Ivory Coast, 101,376 people registered decisions for Jesus Christ.

We are rejoicing and praising the Lord for such a fruitful campaign. Thank you for partnering with us, and with the Lord of the harvest. We are co-laborers together with him for the sake of millions of souls.

Yours in the Gospel,

Evangelist Daniel Kolenda

Together with Peter Vandenberg & the whole CfaN Team
Above and Beyond
The final meeting of our Gospel Crusade in Daloa, Ivory Coast, has come to a glorious conclusion just a few minutes ago. It was above and beyond all expectation. Rather than writing a lengthy report, I recorded this message for you from the field. I'm sure you will be so blessed:
Also, I've included a fantastic shot of tonight's crowd.
On the way to the meeting, we noticed the convoy had taken a different route. We soon saw that it was because the authorities had shut down the road next to the crusade field in both directions, blocking it off so that the crowd could overflow into it. It was like Times Square on New Year's Eve.
Once again, Jesus has done all things well. Thank you for praying for us. I will send the decision card count once it is in.
Yours in the Gospel,
Evangelist Daniel Kolenda
Together with the whole CfaN team
Pictures by O. Volyk
One of the Most Precious Moments of My Life
I don't even want to try to describe the atmosphere tonight. Words just don't suffice. Even this video doesn't do it justice, but you really should take a minute to watch this short clip that I recorded from my cell phone while standing on the platform after praying for the sick and praying for the outpouring of the Holy Spirit. If this is not "joy unspeakable and full of glory" then I don't know what is:
Standing there on the platform, in this atmosphere, miracles were happening everywhere. The crowd was heaving with excitement and faith. Behind me stood a woman who had been crippled for 6 years after a botched neck surgery. Tonight, she along with several other cripples, were healed. We danced together and rejoiced. It was so beautiful.
Then a young lady came forward with tears streaming down her face. Her mother told me that she had been deaf since she was a small child. She was not able to go to school as a result, and her whole life was affected by it. Tonight, when I asked the people to raise their hands, she responded and lifted her hands. Her mother was shocked. She said, "Did you understand?" and the girl answered her mother for the first time in many years. "Yes…I can hear." She embraced me tightly as she wept; then her momma came in for a group hug. I can honestly say it was one of the most precious moments of my life.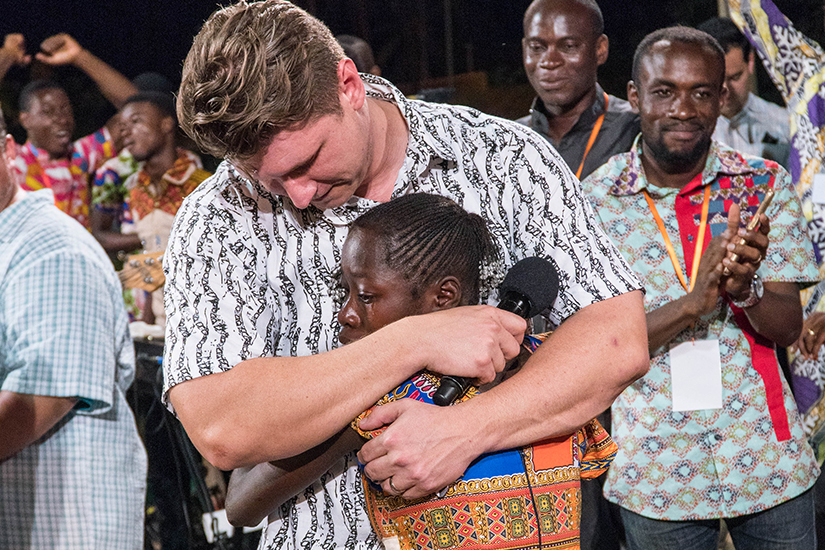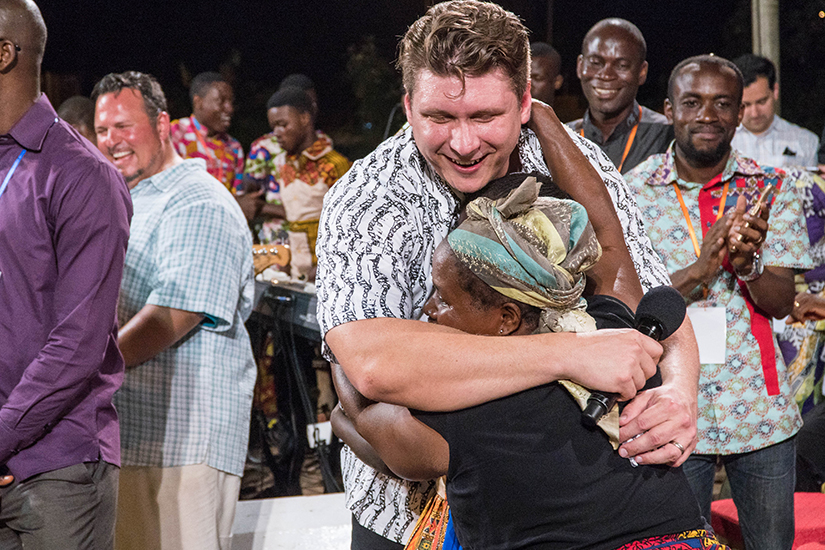 She was not the only deaf person that was healed. A 25-year-old man, who was deaf from birth in his right ear, said that as I was praying, he physically felt a finger enter his ear. Then suddenly his ear exploded with sound.
There were many more testimonies. Too many to convey and too many to hear. God is shaking this city mightily. Daloa will never be the same.
Despite some threats on the field tonight, we persisted. God protected us and showed up, as you can see for yourself in my video.
Thank you for praying. Tomorrow is the last day. Please continue to cover us.
Yours in the Gospel,
Evangelist Daniel Kolenda
Together with the whole CfaN team
Pictures by O. Volyk
Showers of Blessings
Our Fire Conference started this morning at 6:00 AM – before the sun had risen! We are amazed by the hunger of these pastors and leaders, who would come out so early, many of them walking for miles to reach the site. They are hungry for the Word of God and for a touch from Heaven. Peter Vandenberg and Pastor Tyrone Gray ministered in power, and the pastors were very blessed. Tomorrow, we will lay hands on them and pray for them to receive the baptism into the Holy Spirit. This is always one of the highlights of the week for us.
Tonight, several hours before the meeting started, the rain began to pour. It soaked the field, turning it into mud. We wondered how the people would respond. To our surprise, the crowd actually grew significantly over last night. I preached about the power of the blood of Jesus and asked Pastor Gray to help me pray for the sick and break the curses. Many wonderful miracles took place.
A woman had a tumor in her stomach that was painful and protruding. She had lost three pregnancies and believes it was due to the tumor. So she went to the witch-doctor for help. He gave her a charm to wear around her waist, but her condition had not changed. Tonight, during the prayer for the sick, the tumor vanished! She told me her story on the platform and said that she wanted to remove that charm she had received from the witch-doctor. Right there in front of the crowd, she removed it and gave glory to God!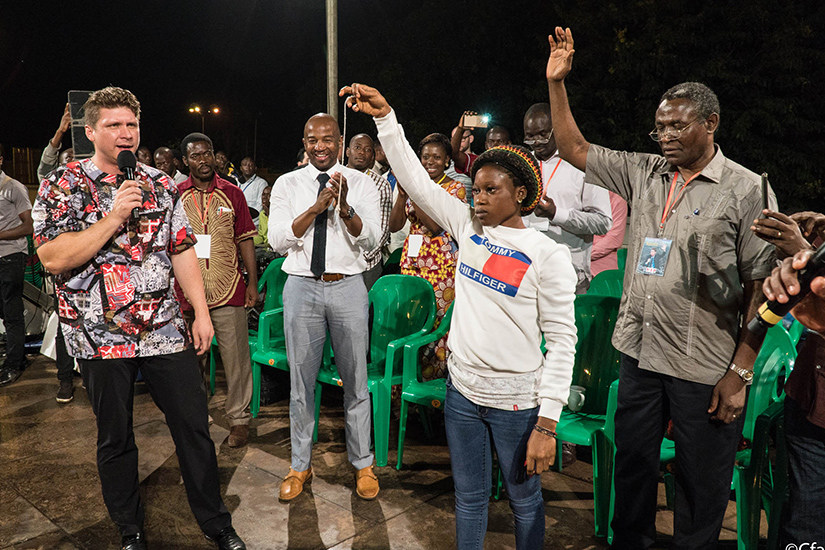 A woman, whose leg was swollen several times the normal size for three years, said that suddenly, during the prayer, the swelling went down. Her leg was completely normal.
An old woman who had been deaf for three months was healed.
A man who could not walk for the last 6 years was healed.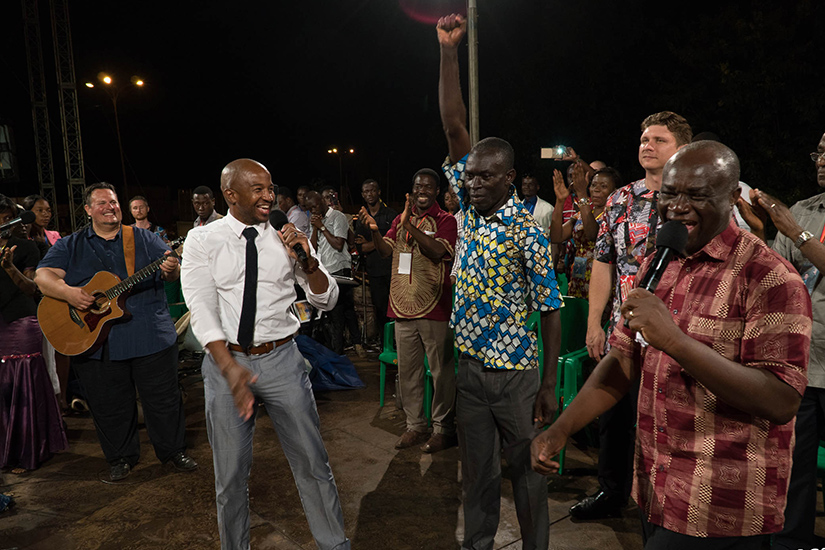 There were many other testimonies as well…too many to mention.
Please keep us in your prayers. The best is yet to come!
Blessings,
Evangelist Daniel Kolenda
Together with the whole CfaN team
Pictures by O. Volyk
Many Challenges and Great Victories
The first night of our Gospel Campaign here in Daloa, Ivory Coast has just ended. The atmosphere was electric. The devil has tried hard to keep this crusade from happening – a great indicator that we are about to witness a mighty harvest here. Despite many obstacles we have had to overcome here, something extraordinary is taking place.
On the road, en route from the last crusade site, our technicians ran into difficulties at the Ivory Coast boarder. They sat for six days waiting for clearance. Last Friday, they still had not been released. The border control office closed for the weekend at 5 PM and wouldn't open again until Monday. 5:00 came, and they still had not received their paperwork. This meant that they would not arrive in Daloa on time. The crusade was in jeopardy. Ten minutes after 5:00 the paperwork arrived and although the office was technically closed, they were miraculously allowed to cross the border.
When they arrived in Daloa, there was another problem. A dispute was taking place among the family members that owned the field where our crusade was to be held. The outcome was that, despite a previous agreement, they would not allow us to the use the ground! This presented a huge challenge. Where else could we meet? All the posters, banners, TV and radio spots were advertising that location. Finally, a new field was found, but there was another problem.
The field was far from ideal. Parts of it were covered in garbage piled more than 10-feet high! Our amazing team, led by Winfried Wentland, went to work. They used three front-end loaders to fill and haul away nine trucks of garbage to the municipal dump. It took two days just to clear the field! But it was ready just in time.
Despite the many challenges, and push back we have received from all sides, when we arrived on the field tonight it was packed! Just have a look at the pictures! After I preached the Gospel and prayed for the sick, we heard wonderful testimonies.
A boy born deaf, who had never spoken or heard, began to hear! He must now learn to speak, but he responded to his Father's voice for the first time in his life!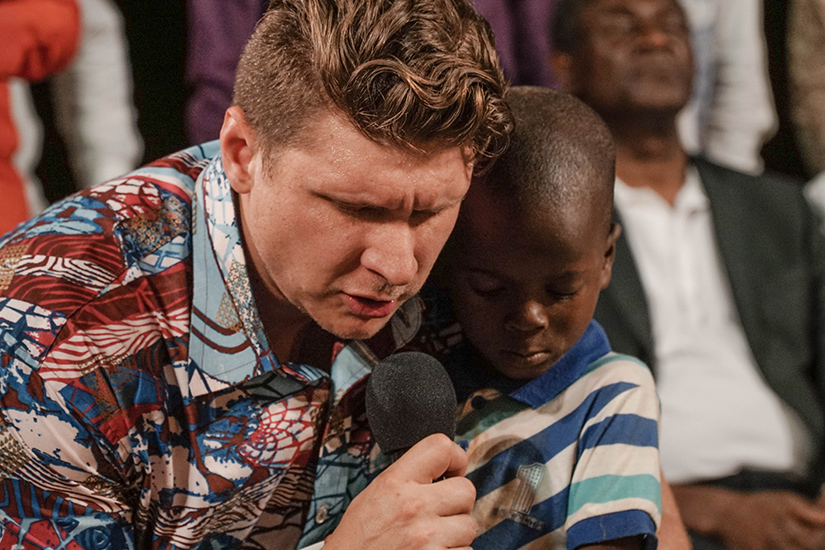 A woman, who had been in an accident 7 years ago and ended up trapped under the vehicle, had been crippled ever since. Tonight, Jesus healed her. She danced with me and shouted for joy! What a glorious miracle.
Another cripple, an old man who had not been able to walk for eight years, was so healed tonight that he jumped, and kicked, and danced on the platform. You could never tell that he had been crippled just minutes earlier!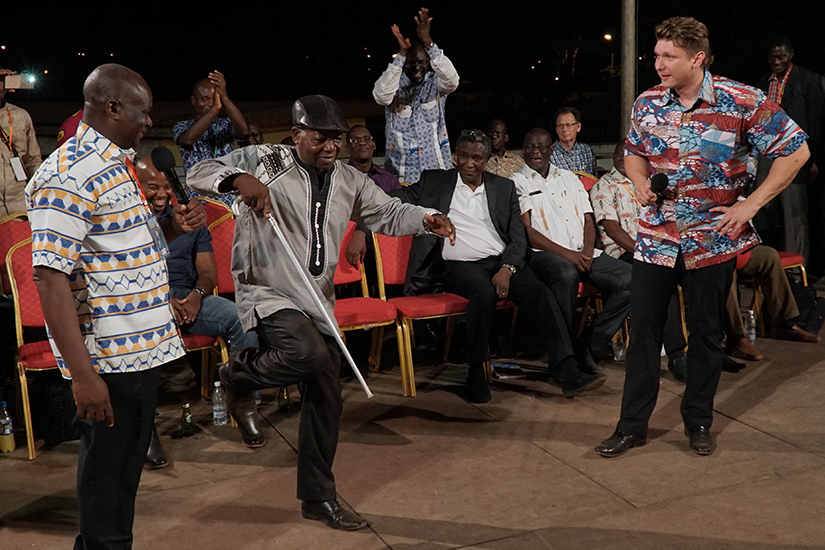 Jesus is alive and well here in Daloa. This is just the beginning!
There is one more small challenge I should share with you. This morning, after our first session of the Fire Conference had concluded, we received a message from the governor that our meetings, which are apparently in close proximity to the government offices, are too loud and must be concluded by 8:00 AM going forward! That means we will start preaching tomorrow morning at 6:00 AM – before the sun has come out! This will be a new experience for us, but nothing will stop what God is doing here.
Please pray for us, for our team and for the people of Daloa as we press through every obstacle and look for a historic harvest to take place over the next few days.
Yours in the Gospel,
Evangelist Daniel Kolenda
Together with the whole CfaN team
Pictures by O. Volyk
Just Arrived!
Greetings from Ivory Coast! Here are some of the sights from our arrival into Daloa, Ivory Coast where we will begin our Gospel Campaign here in just 24 hours. The people here are excited for what the Lord is going to do here. Please pray for us, that the Holy Spirit will prepare hearts for the preaching of the Gospel that will begin tomorrow! God bless you.
Daloa, Ivory Coast
Daloa
Located in west-central Republique du Côte d'Ivoire (Republic of Ivory Coast), Daloa is a town at the intersection of major north-south and east-west routes. It is the chief collecting point for a forest region that sends coffee, cocoa, kola nuts, and timber (sipo) to the coast for export. Daloa is also a local trade centre for rice, cassava, yams, bananas, and cotton. Daloa has several sawmills, a rural technical institute (1967), and a regional office of the Department of Agriculture.
People
Ivory Coast has about 25 million inhabitants (or Ivoirians) comprised of approximately 60 different ethnic groups. A majority of the people are Muslim, followed by Christians, and lastly numerous animists and followers of ancient cults. Due to the diversity of the ethnic groups there is a stark contrast in the traditions and languages, however, the official language is French. The five main local languages are the Diula (Dioula), Baule (Baoulé), Dan, Anyin and Senari.
Land and Climate
Bordering the North Atlantic Ocean, between Ghana and Liberia, Ivory Coast has an area of 322,500 km² (124 500 sq. mi.) This is slightly larger than the state of New Mexico. The terrain is mostly comprised of forests. The climate is tropical along the coast and dry in the far north. Between November and March the overall climate is warm and dry.
Economy
The natural resources in Ivory Coast include: petroleum, natural gas, diamonds, manganese, iron ore, cobalt, bauxite, copper, gold, nickel, tantalum, silica sand, clay, cocoa beans, coffee and palm oil. The main exports are coffee and cocoa beans, but also include bananas, palm kernels, corn, rice, manioc (tapioca), sweet potatoes, sugar, cotton, rubber and timber. Fuel, equipment, and foodstuffs are the most common imports. Currency used in Ivory Coast (as well as countries such Benin, Burkina Faso, Niger among others) is the Communaute Financiere Africaine franc.
Sources: https://www.britannica.com/place/Daloa ; https://www.cia.gov/library/publications/the-world-factbook/geos/iv.html ; http://www.nationsonline.org/oneworld/cote_d_ivoire.htm#History