A Glorious Conclusion
Watch this short video with Evangelist Daniel Kolenda from Day 4!
The last meeting of our crusade here in Brazzaville, Congo has just come to an end. It was a glorious week. Many thousands of salvations and healings. (Have a look at the pictures below!)
Now we turn our attention back to Nigeria as our team makes preparations for a long and arduous journey back through very difficult and dangerous terrain. Please keep them and us in your prayers.
Yours in the Harvest,
Daniel Kolenda
Together with the whole CfaN team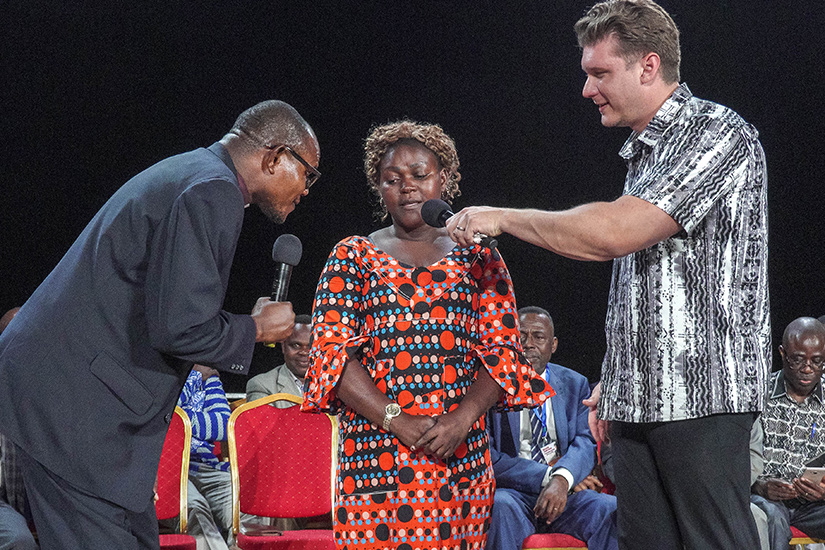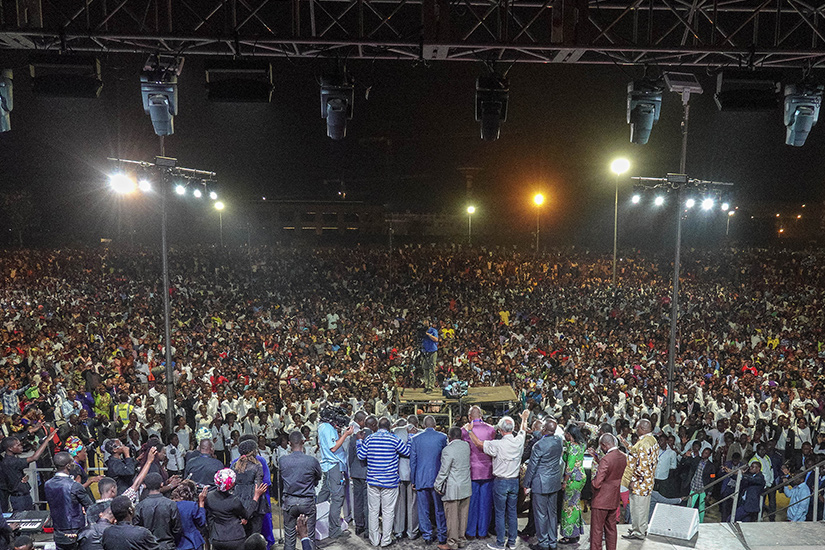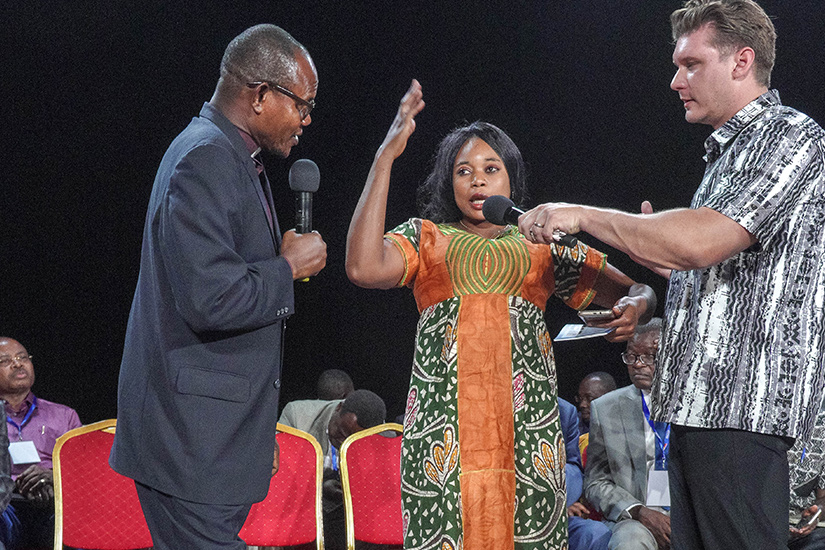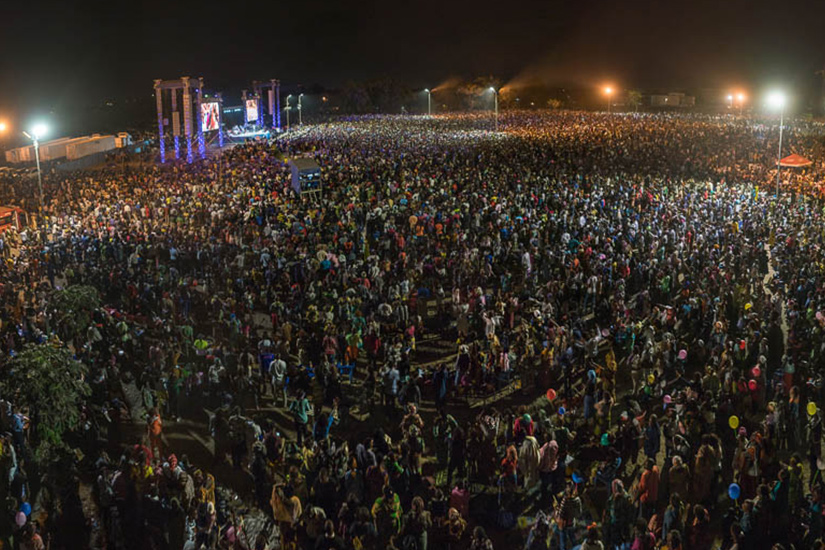 Holy Spirit Outpouring
Watch this short video recap from Day 3!
Today has been a day of Holy Spirit outpouring, both morning and evening here in Brazzaville, Congo. This morning the Fire Conference concluded as Peter Vandenberg and I ministered to the pastors and church workers. Afterwards, we prayed for them to receive the baptism in the Holy Spirit. I laid hands upon hundreds of senior pastors who, in turn, laid hands upon the thousands present. Tonight, with the huge crowd in attendance, we prayed again for the people, many of them brand new converts, to receive this glorious gift. The place was shaken. Even before we started praying the Holy Spirit began to move across that huge field. From my vantage point on the platform I could see many people all over the field spontaneously dropping to the ground as they were being overwhelmed. Many miracles of healing also took place.
• A man who was formerly insane, was brought by his wife who said that after the prayer on Thursday night, her husband has returned to his right mind. He said that during the prayer, he suddenly felt something like electricity surging through his body. Suddenly his mind became clear and he was totally well.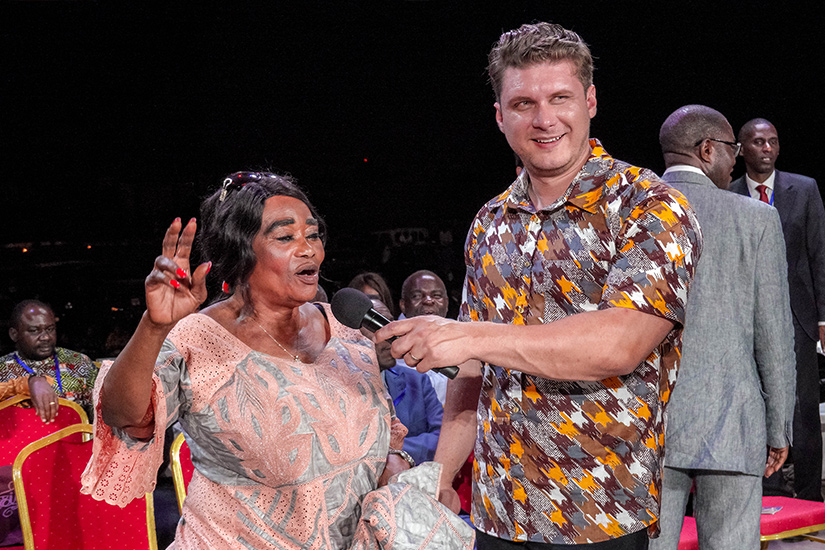 • An elderly woman who was not able to walk at all for the last three years can now walk perfectly, and even run!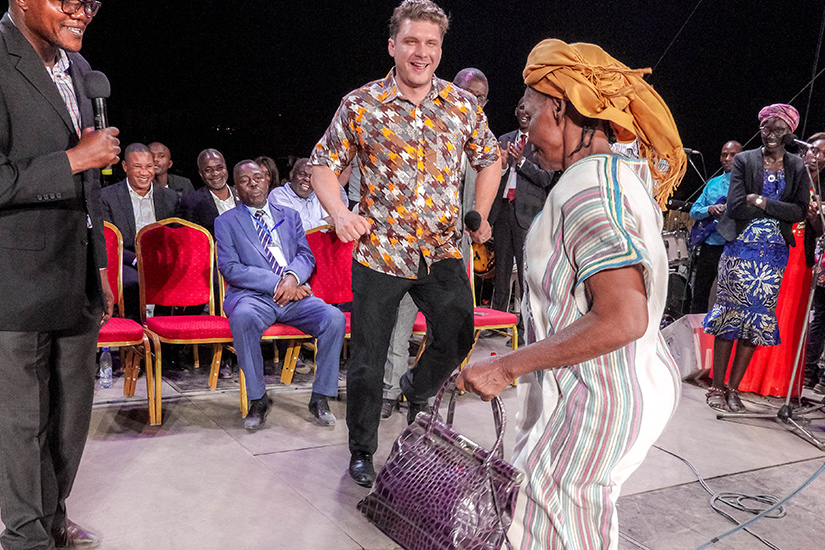 • A young lady who had a lung disease came to testify of her healing which she received on Thursday night. She had recently been to the doctor and had received X-Rays and a doctor's report confirming her disease. After she felt the power of God come over her body on Thursday, all pain left. She went back to the doctor today, he took more X-Rays and did more tests. Finally, he asked which hospital she had been to before and who the doctor was. He said he could find no trace of her sickness and gave her a clean bill of health.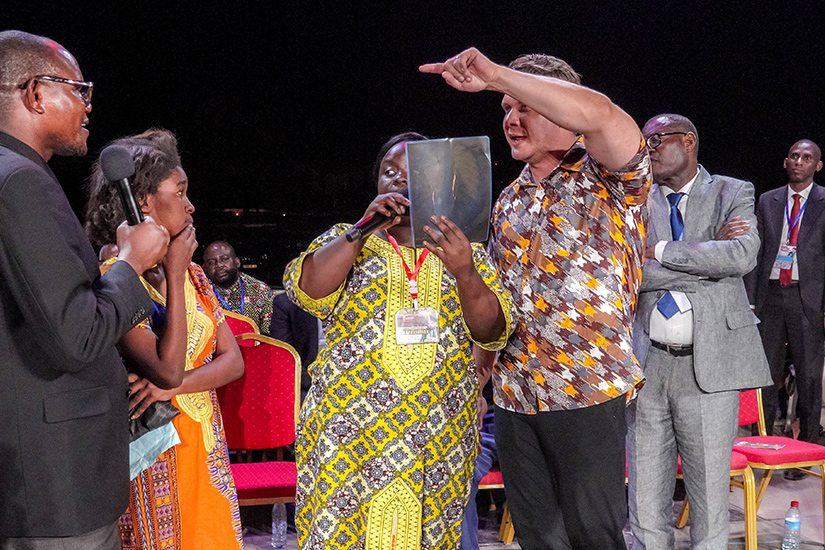 There is so much more to tell. We could not hear all the testimonies because there were so many. Indeed, many hundreds of people said that they had been healed tonight. Jesus is alive in Brazzaville!
Tomorrow is the final meeting. Please continue to pray for us.
Yours in the Gospel,
Daniel Kolenda
Together with the whole CfaN team
Shaken By The Gospel
Watch this short video recap from Day 2!
Brazzaville, Congo is being shaken by the gospel! Tonight, on our second evening of this crusade, I preached on the blood of Jesus. Many thousands surrendered their lives to Jesus and many wonderful miracles happened. There are far too many to mention, but have a look at the pictures! They will give you some idea of what is happening.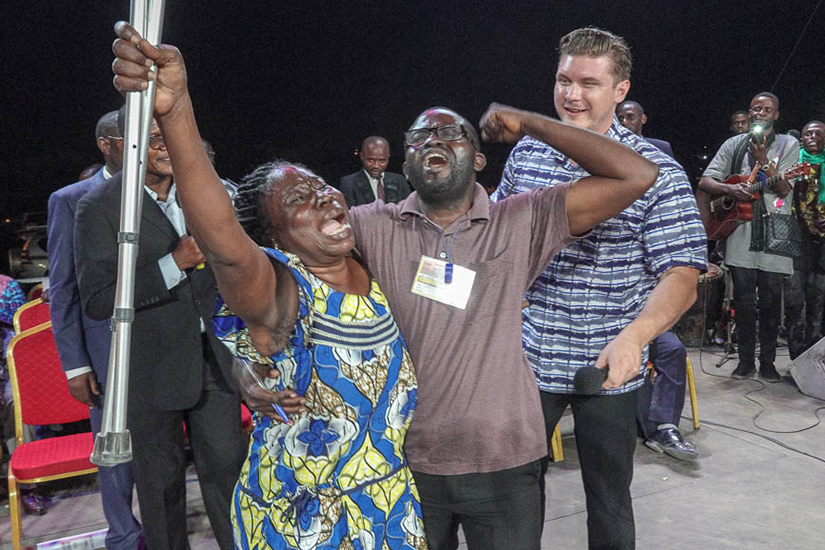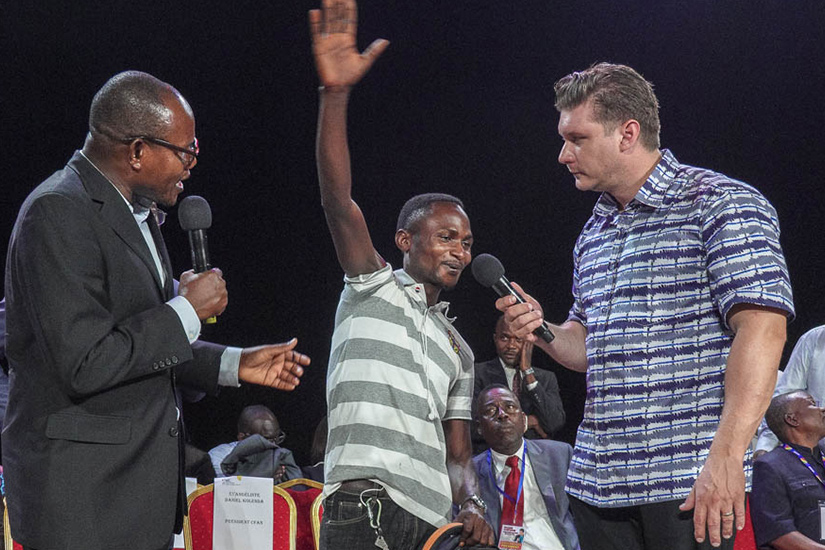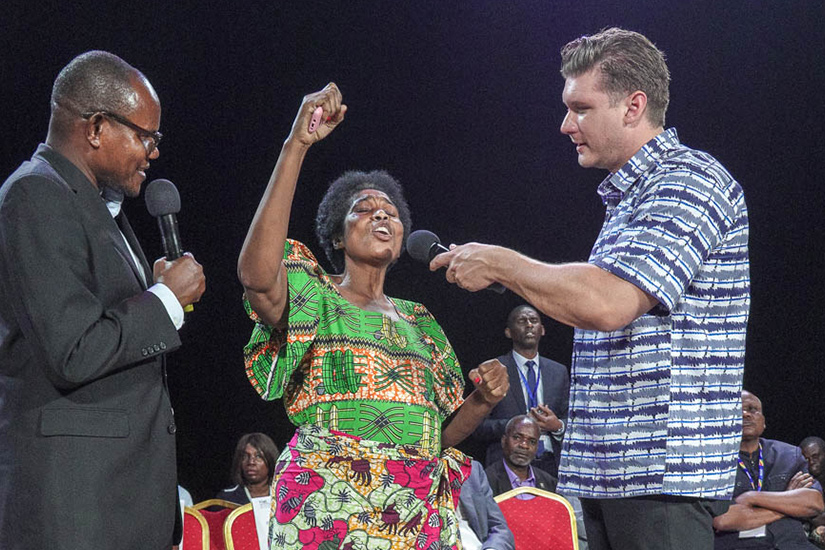 This morning, Peter Vandenberg and John Darku ministered to the pastors and church leaders at our Fire Conference with great anointing. Tomorrow morning the Fire Conference will climax as we pray for those present to receive the Baptism in the Holy Spirit. We are anticipating a powerful day, both morning and evening.
Please continue to pray for us. We are expecting great things.
Yours in the Gospel,
Daniel Kolenda
Together with the whole CfaN team
A Perilous Journey
You may have heard about the many difficulties and challenges we encountered to get here. In fact, we were supposed to have had a crusade here in June that had to be canceled because of these challenges. It was the first time in the history of the ministry that our equipment did not arrive in time for the crusade – even though they had journeyed for more than eight weeks to get here.


There are many stories we cannot tell, but suffice it to say that the very fact that no one in our team was hurt or killed on that perilous journey is itself a great testimony. My journey was also beset with difficulties. Peter Vandenberg and I only arrived early this morning. After more than two days of travel our plane landed at 5 AM and Peter was already preaching in the fire conference by 8 AM.
After tonight's opening meeting it is clear to us that the enemy tried to prevent us for good reason. There is a great hunger and anticipation here. There is a great hunger and anticipation here and many thousands responded to the preaching of the Gospel with great enthusiasm. After the prayer of salvation, I prayed for the sick and the power of God began to move on the massive field. Even as I was praying many demoniacs began to manifest. Many cripples walked, paralysis vanished, pain disappeared and many other miracles took place.
A young man had broken his ankle in 2007 and since that time his foot had been turned to one side forcing him to walk painfully on its outer ridge. Tonight, his foot straightened out, his pain left and he was able to walk so perfectly no one could have ever guessed he was so mangled just moments before.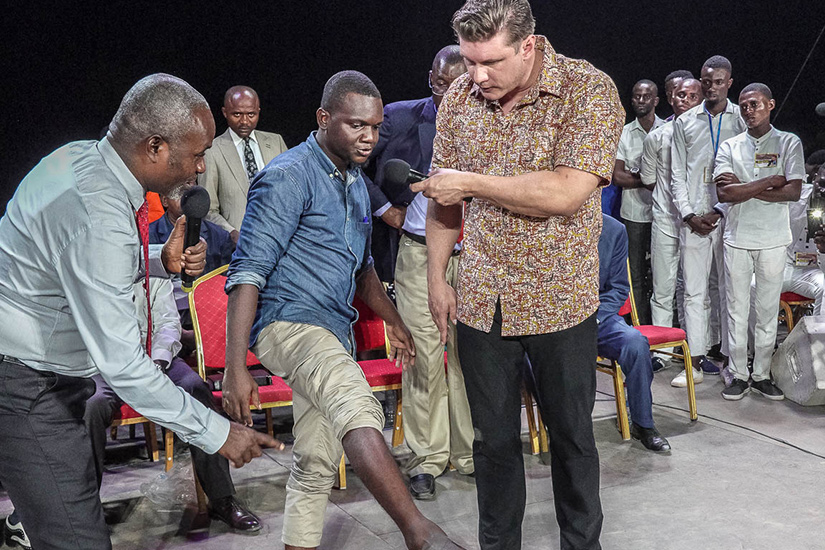 A man with paralysis on his left side from a stroke received full use of his left arm and leg. We heard testimonies of lungs, eyes, arms and legs being healed and many more. And this is only the beginning.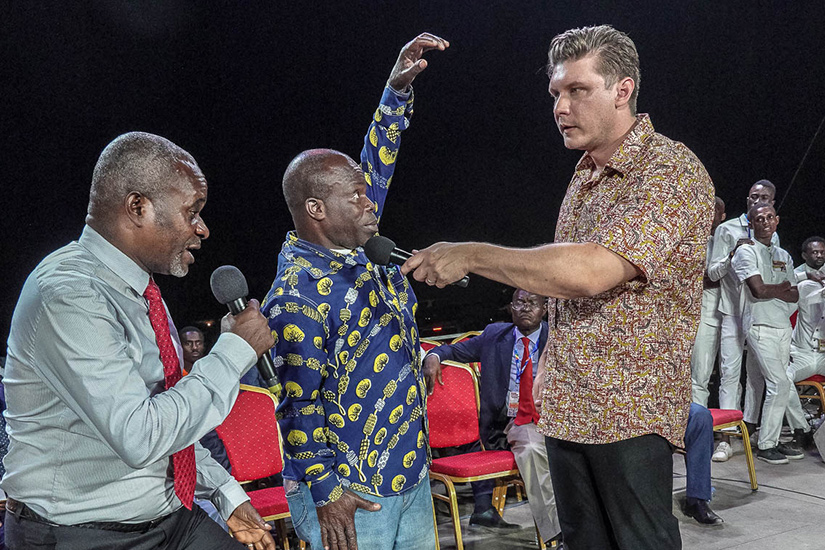 Please keep us in your prayers through the rest of this week as we continue to work in this ripe harvest field.
The best is yet to come.
Yours in the Gospel,
Daniel Kolenda
Along with our entire CfaN team.
Just arrived and Day 1 begins!
Watch this short video of our arrival and preparations for Day 1!



Brazzaville, Congo
We are happy to announce that our crusade in Brazzaville, Congo is now scheduled for August 9 - 12, 2018. Thank you so much for your prayers and support. Read the following update from Peter Vandenberg, Executive Vice-President of Christ for all Nations!
"The whole journey has been fraught with difficulties, endless delays, military activity, it's been quite a journey indeed. And so many of you have been praying for us and praying for the team and that's been wonderful. Thank you so much, it's made the world of difference. They have literally gone through things that we would never like to see again, but your prayers have made the difference. So many of you also sent in encouraging messages to us. Thank you, they were really were an encouragement and we sent some of them off to the tech guys out there in the deep forests in West Africa and it really encouraged them to keep on, keep going, because we want to see souls saved in Jesus' name.
Now the good news is that the trucks, and the technicians, and all of the equipment have arrived safely in Brazzaville, Congo and we are rejoicing. And, of course the crusade dates have had to change because of the delay, so the crusade will be now from the 9th of August to the 12th of August and we ask you to pray for that. Preparations are in full steam right now. People who were disappointed when we couldn't have it on the scheduled date are now rejoicing. Though the devil has tried so much to block us, we know that this is going to be a great crusade, so thank you for praying for us.
And I also want to remind you that there are expenses still to be met and I know that you, who are so interested and so involved with us, would also like to be a part of that, so I want to encourage you to send your financial gift for the Brazzaville, Congo campaign and the Lord will bless you because all of that money will be used for the salvation of souls and according to the word of God, you too will be blessed for your faithfulness. So thank you so much for standing with us.
On behalf of myself, Daniel Kolenda and the whole Christ for all Nations team, thank you, thank you! And God bless you."
Brazzaville, Congo
Brazzaville
Brazzaville is the capital of the Republic of Congo, and the country is sometimes called "Congo-Brazzaville" to distinguish it from the Democratic Republic of Congo. Founded by the French empire, the city name derives from the Italian-born explorer, Pierre Savorgnan de Brazza.
People
About half of Congo's inhabitants identify with the Kongo peoples, whose major subgroups include the Sundi, Kongo, Lali, Kougni, Bembe, Kamba, Dondo, Vili, and Yombe. The Ubangi peoples include the Makoua, Kouyou, Mboshi, Likouala, Ngala, and Bonga. The Teke and the Sanga, or "Gabonese Bantu," are also divided into subgroups. The Binga Pygmies live in small bands, usually as clients of surrounding farming peoples. Except for the Pygmies and the Adamawa-Ubangi speaking populations in the northeast, the indigenous peoples all speak Bantu languages. Intergroup communication and trade fostered the development of two trade languages, Lingala and Kituba (Mono kutuba). Lingala is spoken north of Brazzaville, and Kituba is common in the area between the capital and the coast. French is the official language and the medium of educational instruction, as well as the language of the upper classes.
Culture
Precolonial artistic expression emphasized ceremonial music, dance, sculpture, and oral literature. Christianity and colonialism had a great impact on these art forms. The carving of ritual objects became commercialized, and music and dance altered as a result of the introduction of Western instruments and musical styles. In the 1980s the Brazzaville region became a vital centr for the production of contemporary African music, known as Congolese music or rumba. The genre, which mixes traditional African rhythms and instruments with those borrowed from other cultures, enjoys widespread popularity throughout Africa as well as around the world. Popular sports in Congo include football (soccer), men's and women's basketball, and women's volleyball.
Land and Climate
Brazzaville is located on the north side of the Congo River and is a relatively flat town. It sits just 315 miles inland from the Atlantic Ocean and nearly 300 miles south of the equator. The average temperatures in June average a high of 28 °C (83°F) and a low of 19°C (67 °F). Brazzaville has a tropical wet and dry climate. The rainy season is October to May, and the driest months are July and August.
Economy
Conveniently located on the Congo River, Brazzaville grew as an industrial, trading and port settlement, in part due to the accumulation of raw materials extracted during the colonial period. Industries present in Brazzaville include machine shops, textiles, tanning, and manufacturing. As a key port on the Congo River, the city takes deliveries of raw materials, such as rubber, wood and agricultural products. From here they are generally sent onward to Pointe-Noire for export.
Sources:
https://www.britannica.com/place/Republic-of-the-Congo/Cultural-life