Breaking Ground
The final night of the last Gospel Campaign of the year has just come to a glorious conclusion. The field was packed tonight. When I asked how many were attending for the first time, it was the overwhelming majority! I met a lady who said that she had been listening by radio a couple nights ago. She had terrible pains in her chest for several days and thought she was going to die. When I was praying for the sick, she stretched out her hand in faith and touched the radio. Immediately, the power of God hit her and all the pain left. From that time, until now, she is completely well!
Sometimes we go to a region where it is obvious that the people are accustomed to church or even evangelistic meetings. In those settings, a campaign can feel like a big church service where everyone knows how to respond and behave. In other places, it is apparent that we are breaking new ground. Those settings can be a bit more challenging…but that is what we are built for! That was the case here in Bobo-Dioulasso, Burkina Faso. A huge number of those that attended were Muslims and Animists. Even many of the Christians seemed to be experiencing our hot Holy Spirit brand of ministry for the first time. In the beginning, they seemed to watch with cool curiosity – hesitant to participate and maybe even a bit skeptical. But as the week went on, a transformation took place. By the time the night was over tonight, it was like a Holy Spirit party. The massive crowd was overflowing with uninhibited joy. They were dancing, shouting and singing because of the great things they have seen, heard and experienced. The power of God blasted so many people and touched the whole region. I am sure that Bobo-Dioulasso will never be the same again!
Our next campaign is in January already. In the meantime, we are looking forward to a restful Christmas holiday season with our families. It is with great joy and thanksgiving that we look back on a year of remarkable harvest. The final statistics are not yet in, but I anticipate it will be close to 2-million people that have received Jesus over the last 12 months of Gospel Campaigns. It is a staggering thought. What an honor it is to bring the love of God to multitudes of people. We could not have done it without you. We are standing shoulder to shoulder with you in this harvest and we thank God for you.
So from all of us at Christ for all Nations – from Evangelist Reinhard Bonnke, Peter Vandenberg and myself – we wish you a very Merry Christmas and a wonderful New Year, filled with the blessings of God and the wonder of His love.
Yours in the Gospel,
Evangelist Daniel Kolenda
Together with the whole CfaN team
Pictures by O. Volyk
Miracles in the Air!
This region is very much steeped in witchcraft and superstition. The traditions of juju go back hundreds, perhaps even a thousand years. The fear of demonic spirits and witchcraft curses is embedded in the culture and psyche of the land. Various demon gods are worshipped and feared. One major river that flows through the land is said to be home to a certain demonic spirit which is believed to manifest as a big fish. As a result, fish are revered. Even if one dies and washes onto the shore, it receives a proper burial as a human would. Last night, after I preached on the blood of Jesus, I said that I would break the curses of the land. On my list was the name of this demon. Certain pastors on the platform pled with us not to say its name out loud because they were afraid that it would attack them. In fact, the very field where the crusade is taking place this week, is a well-known site where religious rituals and festivals take place to honor this "god." Despite their request, I publicly named this demon and declared its power broken in Jesus name! It was a moment of great freedom and deliverance. Demonic manifestations took place all over the field. But most importantly the people (and even pastors) saw that we are not afraid of demonic powers. We are more than conquerors through Jesus Christ!
These meetings are being broadcasted live on two radio stations in the area. This is very important because, despite the fact that multitudes are gathering on the field, the majority of the population is Muslim. Many of them would never be able or willing to attend a Christian event. But they can turn on their radios and listen to the Gospel as they sit in their homes. Many are responding and being saved and even healed! The radio station workers told us they are overwhelmed with calls from people who are being healed as they listen over the radio! Even the airwaves have been transformed into vehicles for the power of God. Miracles are in the air!
Last night, a man gave a testimony of being healed after 14 years of debilitating stomach pain. He said he had been to doctors in Burkina Faso and even in Paris, but no one had been able to heal him. Last night, during the prayer, all his pain left and he was totally healed. What I didn't know is that he was also a Muslim and he did not get saved last night. But today he came back. His vehicle was filled with a huge collection of witchcraft fetishes. There was pottery and woodwork that had been put in his house to ward off evil spirits. He brought all of that stuff tonight and put it into our burn barrels. He wanted all that "juju" out of his life. Tonight, after I preached the Gospel, he prayed with me to receive Jesus. He told me tonight, "I am cleansed by the blood of Jesus!" It's emotional to recall it even now.
Tonight, a little girl was brought forward who had not spoken in 6 years. She had contracted meningitis when she was 2-years old and had been mute ever since. Tonight, when we were praying for the outpouring of the Holy Spirit, I asked the people to sing "Hallelujah." Then I asked them to sing, "Thank you Jesus" to the same Hallelujah melody. The little girl's mother told me that she suddenly noticed her daughter was singing, "Merci Jésus" (French for "Thank you Jesus"). She can now speak perfectly!
Many more miracles took place, but there is one more I must mention. The last testimony of the night was from a Muslim woman who had suffered with asthma and stomach pain for 15 years. She said that Jesus had healed her and that she was so happy. Right before she walked away, I noticed something – she was holding a little booklet in her hand. It was the "Now That You're Saved" booklet that we give to all the new converts. I asked her if she had become a Christian tonight and she said yes. This is the greatest miracle of all and it is a miracle that is happening here in Bobo-Dioulasso by the multiplied thousands.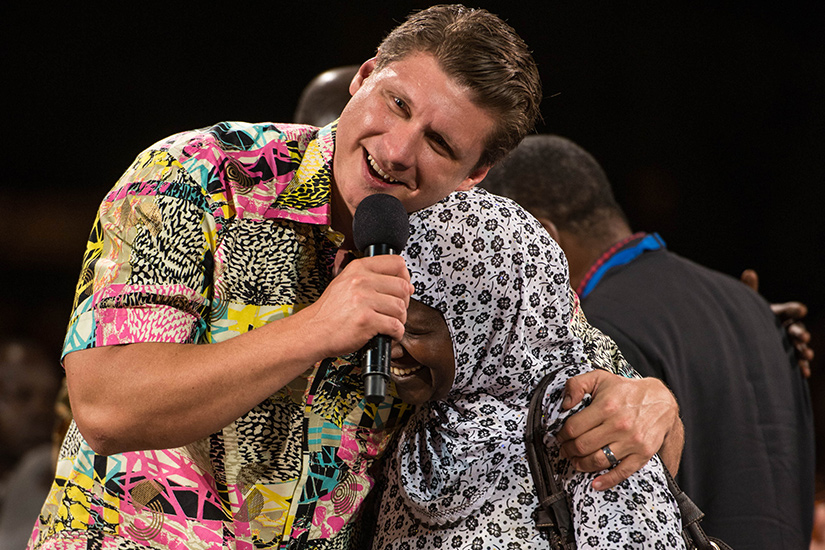 Tomorrow is the last day of this crusade and it will be the last crusade of the year. Please pray for one more massive harvest tomorrow night and a historic outpouring of the Holy Spirit.
Yours in the Gospel,
Evangelist Daniel Kolenda
Together with the whole CfaN team
Pictures by O. Volyk
Childlike Faith
I had sent out an email to my intercessors today asking for special prayer for breakthrough here in Bobo-Dioulasso, Burkina Faso. We are in a difficult region here where most of the population is Muslim, Animist and other tribal religions. Last night was a challenge, but tonight we felt something shift. I believe the breakthrough we have been praying for is taking place. Tonight, I preached on the power in the blood of Jesus and there was an overwhelming response to the invitation for salvation. Wonderful miracles took place and demons were manifesting as we broke the power of every spirit of infirmity and witchcraft curse!
One of the testimonies tonight was from a little girl – probably four or five years old. Over a month ago she had swallowed a large coin. When she didn't pass it after many days, her mother took her to the doctor, but they could not help. Tonight, as I was praying, she suddenly spit the coin out. She was so cute. I said to the people, that Jesus loves the little children. He said, "The Kingdom of Heaven belongs to such as these." Then I asked, "How many little children are here tonight?" I wanted to see where all the kids were. But to my surprise, almost everyone – the young and the old alike – raised their hands. It surprised me at first. Then I realized that they had understood Jesus. He said, "Unless you…become like little children you will not enter the Kingdom of Heaven." I feel this is such a perfect illustration of why the Lord seems to be able to move so easily here. The childlike heart and faith of these people is so refreshing and precious.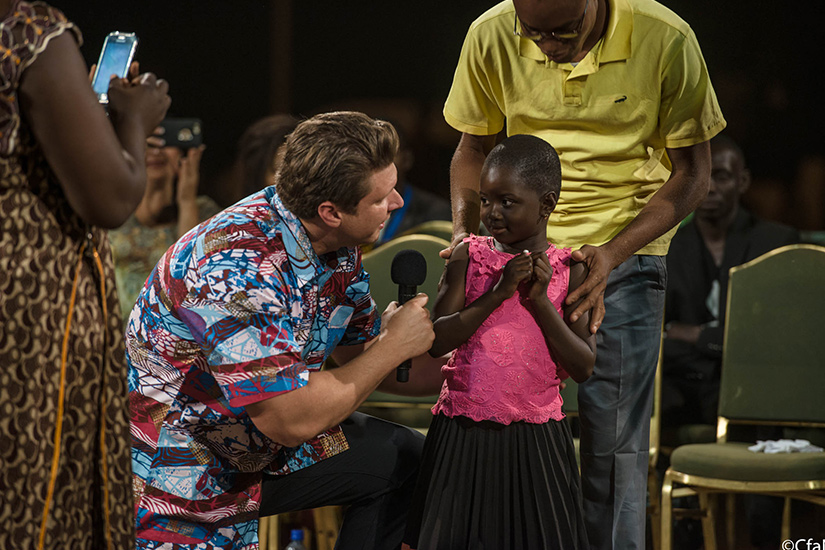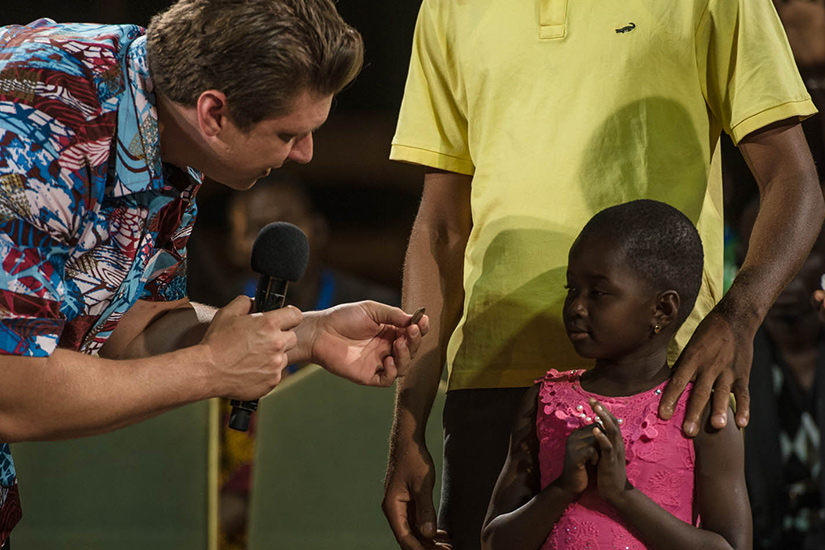 A Muslim woman who had suffered with chronic pain all over her body for 26 years without relief said that as I was praying, she felt the pain leave her body completely. I told her that Jesus does not discriminate against anyone. I asked her if she knew who had healed her. She shouted, "Jesus Christ!"
A man completely deaf in both ears for 12 years was healed tonight!
A woman's painful breast cancer was healed. The hard mass in her right breast vanished. All the pain disappeared completely!
We heard from two men whose blind eyes opened tonight.
When I asked the people how many had experienced a supernatural miracle in their bodies tonight, literally hundreds, maybe thousands raised their hands. The few testimonies we heard are but a very small sampling of what Jesus is doing here in Bobo-Dioulasso.
Tomorrow, the Fire Conference will come to a climax as we pray for the outpouring of the Holy Spirit. Please continue to pray for us. The best is yet to come!
Yours in the Gospel,
Evangelist Daniel Kolenda
Together with the whole CfaN team
Pictures by O. Volyk
Back in Africa!
We are back in Africa for another Gospel campaign which began today here in Bobo-Dioulasso, Burkina Faso. The last time our ministry was in this region was 1991. Since the median age is 16.5, and most of those attending these meetings would not have attended the last time, it is surprising how much good will remains from those meetings all these years later even though a new generation is on the scene now.
Yesterday, when we arrived in the city, we had special receptions by the Governor, Mayor and Traditional Ruler (the King) who is a Muslim. All three received us very warmly and expressed excitement at our arrival. The Governor also attended tonight's meeting and sat on the platform. We have been treated so well in a region that is predominantly Muslim (the rest are mostly Animist and Catholic).
After preaching the Gospel and praying for the sick, we heard testimonies of wonderful miracles. A man blind in both eyes for three years, received his sight. An old "mama" who was unable to stand without her crutch (pictured), can now walk (in fact, we danced together on the platform).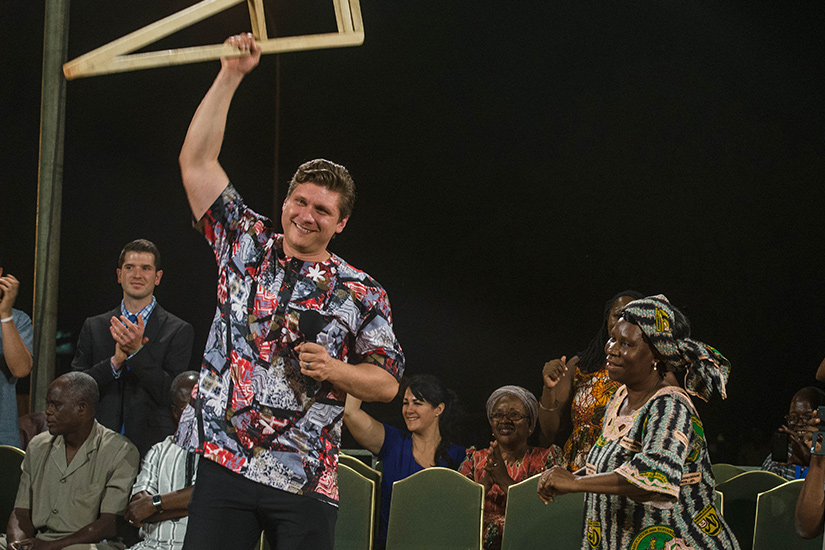 A woman with a painful lump in her breast said that the lump, and all pain, instantly vanished during the prayer!
It seems to me that the people here have never experienced anything like this. Everything feels very fresh and new. Communication is also quite challenging here which introduces some unique dynamics. But I have an excitement in my heart that history will be made this week.
Please pray for us and for Bobo-Dioulasso. Pray for a mighty harvest and supernatural breakthrough. We are believing for the whole region to be shaken.
Yours in the Gospel,
Evangelist Daniel Kolenda
Together with the whole CfaN team
Pictures by O. Volyk
Preparing the Grounds
Our team has been working hard to prepare the fields here in Burkina Faso!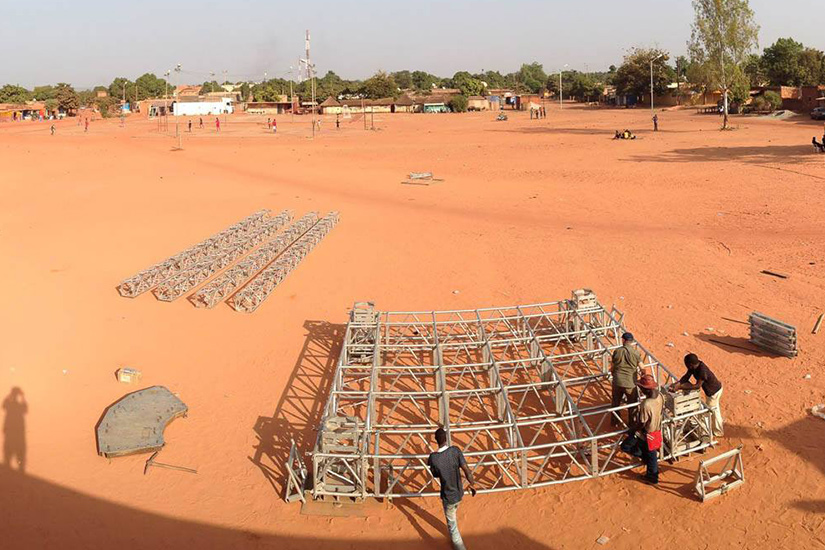 Many of the locals have already begun to spread the word of the Gospel Campaign that will begin here! Please pray for a massive harvest of souls to meet Jesus this week!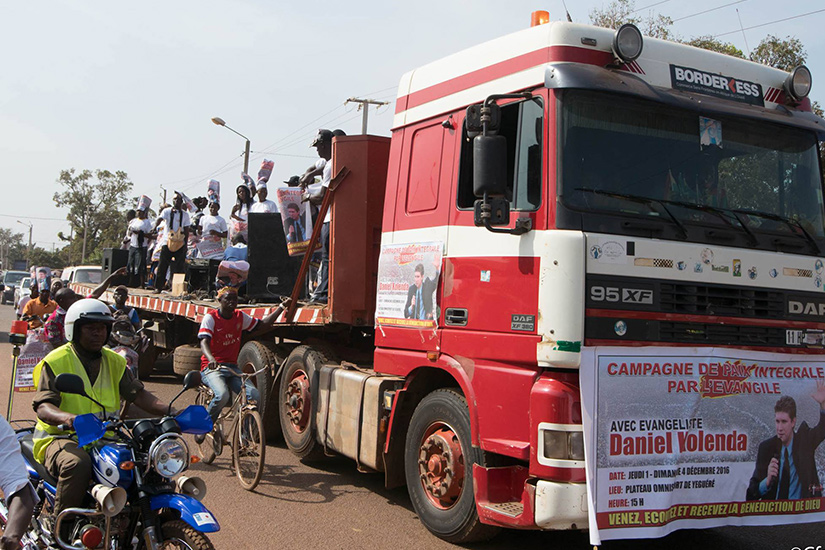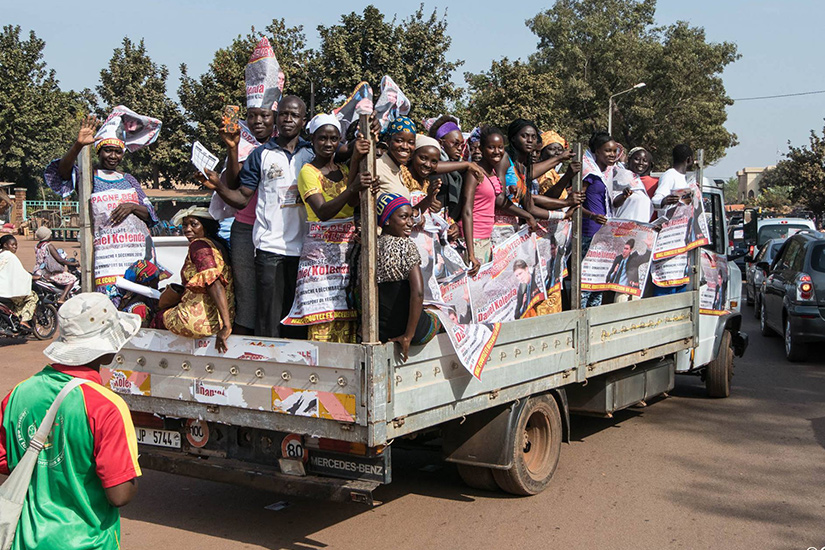 Bobo-Dioulasso, Burkina Faso
Bobo-Dioulasso
Bobo-Dioulasso is the second largest city in the country, after Ouagadougou, Burkina Faso's capital. The name means "home of the Bobo-Dioula." While the term was likely coined by French colonists to reflect the languages of the two major groups in the population, it does not capture the complex identity and ethnicity of the location. The city is situated in the southwest of the country, in the Houet Province, some 350 km (220 mi) from Ouagadougou.
People - Ethnic groups and languages
The local, Bobo-speaking population (related to the Mande) refers to the city simply as Sia. There are two distinct dialects spoken of Jula, based on the origins of different peoples who speak this language. Culturally, it is known as a major center for the arts and music. Much of the crafts produced are for the growing tourist industry.
Land & Climate
Much of the soil in the country is infertile due to where it is situated on an extensive plateau, which is slightly inclined toward the south where much of the soil in the country is infertile. Annual rainfall varies from about 40 inches (1,000 mm) in the south to less than 10 inches (250 mm) in the north. Generally, the conditions are sunny, hot, and dry.
Resources
Minerals, particularly manganese and gold, are the chief sources of potential wealth for the country. Burkina Faso's substantial manganese deposits at Tambao in the northeast potentially represent its most important resource and one of the world's richest sources of this mineral. Exploitation is limited by existing transport inadequacies.
Chief imports include petroleum, chemical products, machinery, and foodstuffs, which mainly come from surrounding countries as well as from France. Economically, Bobo-Dioulasso is significant in both agricultural trade and textile industry.